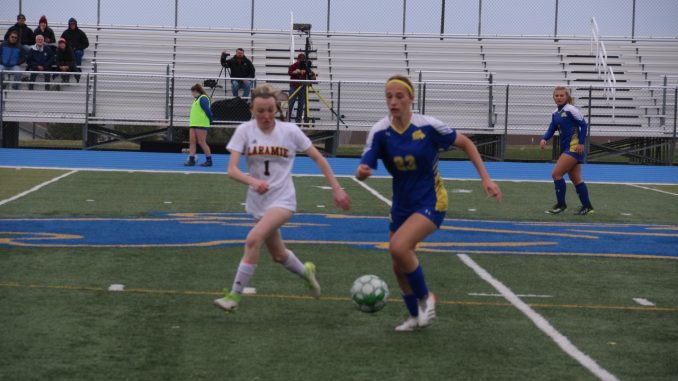 BRONC / LADY BRONC SOCCER – The Lady Bronc soccer team played Cheyenne South Monday in a make up game and the Lady Broncs came out on top with a 4-1 victory, they play at Campbell county tonight.
The Broncs will host Campbell county tonight which is also senior night for the Broncs the JV's will go at 4:00 and the varsity at 6:00.
The regular season will end Friday with both teams playing at Thunder Basin, the regional tournament will be held in Cheyenne next week starting on Thursday, Cheyenne will also host the state soccer championships starting May 19th.
TROOPER BASEBALL – The Sheridan Troopers are 5-1 and have won four straight, they host two with the Billings Expos Saturday ,the first game starts at noon and we will have all the action live on 14-10 KWYO and 106.9 FM and also our live video webstream at sheridanmedia.com.
TRACK / FIELD – The Bronc and Lady Bronc track teams will compete this week on Thursday at meet in Cody, that will end the regular season, next week Laramie will host the 4-A regional meet and the state track and field championships open in Casper May 19th.
GOLF – The Bronc and Lady Bronc golfers will tee it up Thursday in Casper.
TENNIS – The Bronc and Lady Bronc spring tennis players will host matches Thursday with Campbell county and Thunder Basin.