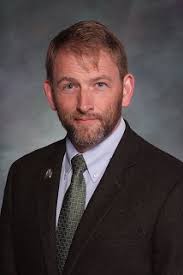 The chairman of Wyoming's state Senate Education Committee said Wyoming isn't getting its money's worth out of the education system, but another member of the committee said in fact the state's education system is "incredible."
Education Committee Chairman Charles Scott raised questions about spending in a recent meeting in which committee members reviewed this year's proposed recalibration bill.
But committee member Senator Chris Rothfuss argued that, in fact, a big reason for increased education spending has been the cost of healthcare. He said when healthcare costs are removed, the state's schools are pretty close to flat in spending on an ADM basis.
Scott told other committee members that recalibration has to happen this year because of a looming economic crisis in the state's education finances. Josh Anderson with the Legislative Services Office said starting in 2022, the state is looking at a shortfall of $300 million a year in education funding.
Scott also told committee members he is concerned that House Bill 61, which is the official recalibration bill, won't get through the Legislature this year, because the bill proposes two unpopular measures to offset the funding crisis – a tax increase and an across-the-board cut in education spending.