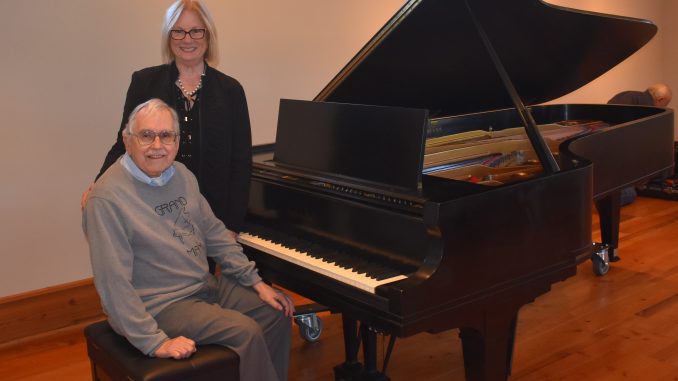 Susan Miller and Ron Krikac with the new Baldwin Grand
Musicians who come to the Ucross Foundation to compose their music will be able to do so on a Baldwin Concert Grand, recently delivered to the Raymond Plank Center.
The piano is one of several that Ron Krikac of Sheridan has purchased and loaned long term to various individuals and churches throughout Wyoming and one even as far away as Vermont. Some he loans to young, talented pianists who need a better piano to practice on.
On Monday, Oct. 18, the piano was delivered from Laramie, where it was being refurbished and restrung. Krikac said he purchased this piano and another one from a dealer over eBay, and the other one is still in Laramie.
Krikac was there to oversee and welcome the piano, which he had never seen, and had this to say about the project.
Krikac was born and raised in Sturgis, SD and moved to Sheridan in 1993 and took a job as a communications professor at Sheridan College. He had this to say about his passion for pianos.
Susan Miller, Ucross Foundation Board vice president and Sharon Dynak, president and executive director, were also on hand to watch the piano being set up. Miller is a neighbor of Krikac in Sheridan, and said that he has two pianos and often he hosts free piano concerts in his home. She had this to say about Krikac's love for pianos.
Miller said that Krikac came by his love for pianos as a youngster, and he's been playing the piano since he was six years old. "His grandmother's family manufactured pianos," Miller said. "He's doing this because he loves pianos"
Dynak said the Miller introduced Krikac to her and brought up the idea that as we're creating this new space in the Raymond Plank Center, what about the idea of bringing a piano in?
She said they got excited about the idea of the piano, and she had this to say.
Dynak said she also hoped that the Baldwin can be featured in the upcoming Christmas program on Dec. 11 at the Raymond Plank Center.
A Baldwin Concert Grand Piano and the Ucross Foundation, a perfect match to bring more music into the Ucross area.