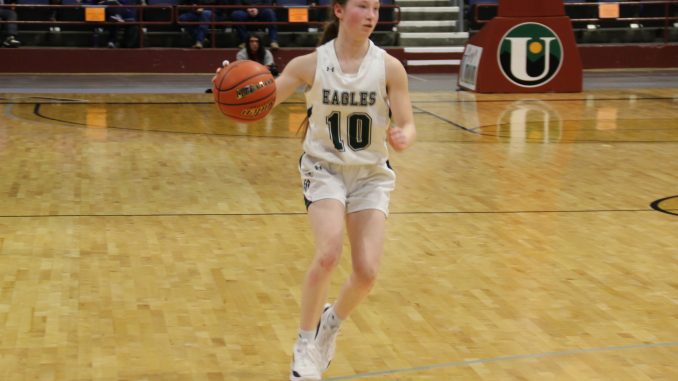 TR used a balanced scoring attack from both the starters and the reserves to defeat St. Stephens 55-29 in the consolation round of the 2A Girls Basketball State Tournament.
Tongue River outscored the opposition 34-10 in 2nd and 3rd quarters combined.
The Lady Eagles play Riverside in the Consolation Championship Game, at 9am on Saturday, March 5th in the Ford Wyoming Center.
Click here to see a box score from the game.
First Quarter:
0:10 – 0:21 Jazlyn Ryan TR 2 SS 0
0:22 – 0:34 Jonae Spoonhunter TR 2 SS 2
0:35 – 0:45 Tahji Moss SS 4 TR 2
0:46 – 0:56 Madison Burnett TR 5 SS 5
0:57 – 1:09 Madison Burnett TR 7 SS 5
1:10 – 1:20 Katy Kalasinsky TR 9 SS 5
1:21 – 1:32 Jonae Spoonhunter TR 9 SS 7
1:33 – 1:43 Amanda Jenkins TR 11 SS 9
Second Quarter:
1:44 – 1:56 Jeniah Lovingood TR 13 SS 9
1:57 – 2:06 Paxton Aksamit TR 15 SS 9
2:07 – 2:16 Faylene Ridgely TR 15 SS 11
2:17 – 2:28 Autumn White TR 19 SS 11
2:29 – 2:38 Faith Whitehead TR 21 SS 11
2:39 – 2:48 Madison Burnett TR 23 SS 11
2:49 – 2:59 Faith Whitehead TR 27 SS 13
3:00 – 3:12 Madison Burnett TR 29 SS 13
3:13 – 3:25 Amanda Jenkins TR 31 SS 17
3:26 – 3:37 Jeniah Lovingood TR 39 SS 17
Third Quarter:
3:43 – 3:55 Autumn White TR 31 SS 17
3:56 – 4:07 Autumn White TR 37 SS 17
4:08 – 4:19 Madison Burnett TR 39 SS 17
4:20 – 4:35 Paxton Aksamit TR 41 SS 17
4:36 – 4:45 Jonae Spoonhunter TR 41 SS 19
4:46 – 4:56 Jeniah Lovingood TR 45 SS 19
Fourth Quarter:
4:57 – 5:08 Consualo Yellowbear TR 45 SS 21
5:09 – 5:18 Faith Whitehead TR 49 SS 25
5:19 – 5:29 Amanda Jenkins TR 49 SS 28
5:30 – 5:43 Paxton Aksamit TR 51 SS 28