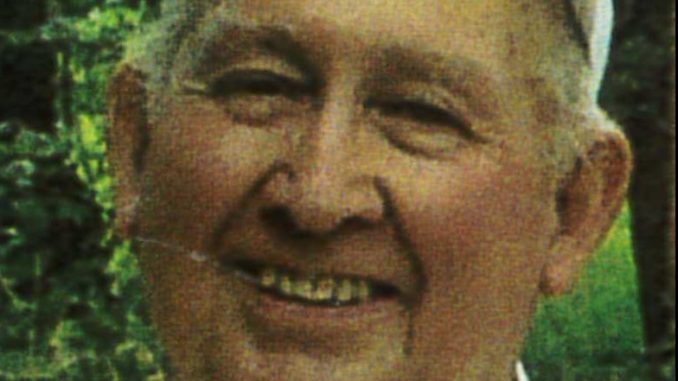 Joseph Jerome (Jerry or J.J.) Worden passed away on November 28, 2021 at the age of 90 in his sleep at the VA Hospital. He was born on February 26, 1931, at Sheridan Memorial Hospital on Saberton Street to Estel D. Worden and Adeline M. Weigand. He was the second of four children born to Adeline and Estel; James, Beverly and Thomas–and he also had two step sisters, Juanita (Worden) Neeriemer (Worden) and Violet Worden. He is survived by his beloved wife Darlene, his children Darla Worden, Lorna (Bill) Dixon, and Wes Worden, along with his sister Beverly (Worden) Michelena, and brother Tom (Carol) Worden, loving sisters-in-law, Dorothy Green and Faye Oneyear, granddaughters Anna Skrabacz and Sydney Worden, and many nieces and nephews.
Jerry was raised on a ranch east of Clearmont, a place he loved and talked about throughout his life. As a young man, he quickly surpassed his parents in height, growing to be 6'6' and became a gifted athlete. However, in his elementary school years, he had an unusual case of dyslexia that caused him to read upside down and backwards. Teachers thought he was a prankster when he was reading a book upside down and he would be sent to the hallway. One time, his mother was amused when she was sitting in the stands at one of his basketball games and she heard two students gossiping." See that guy, he reads upside down and backwards. I heard that he shoots at the floor to make a basket!" Luckily, his parents found a doctor in Sheridan who worked with him and prescribed glasses that helped correct his dyslexia, allowing him to read a book right side up. He became an avid reader, reading most everything he could get his hands on, and he looked forward to reading the Sheridan Press every day—a habit he passed along to his children.
At Clearmont High School, he was a standout basketball player, once scoring 54 points against Hulette after just three quarters at which time the coach took him out of the game. And in 1949, despite a small pool of players to draw from his team won the Class B. All State Championship with just seven guys. He received a basketball scholarship to the University of Wyoming, but quit to return home to the ranch. He was on the very first Sheridan College basketball team and inducted into the Hall of Fame.
After graduation, in 1951, Jerry enlisted in the U.S. Air Force. He was sent to San Antonio, Texas for basic training, then to Belleville, Illinois for radio mechanics school for the Air Defense Command. He had to wait for four weeks killing time for a class to open up. Easy Ed McCallaough a great basketball player for Saint Louis, came out to his class and practiced. Jerry told him, "I'd love to shoot a hook shot like you, and Ed said, "said there's nothing to it" so he taught Jerry how to shoot a hook shot. He earned the nickname "Mr. Automatic" because he hardly ever missed after that.
After radio school, Jerry was preparing to go to France, to fight in the Korean war however there was an order that no unmarried men in his class would be going overseas so he was sent to the base in Saratoga, N.Y. as a radio mechanic. The Air Force was trying to build their basketball team there and they needed a center, and he fit right in. He was there two years, playing on the base team and went to Clearwater, N.Y. a semi-pro Hudson Valley league and Jerry's team won that league.
Estel, Jerry's father, was active in Wyoming politics and he knew Wyoming Senator Joseph C. O' Mahoney in charge of the Armed Services Forces. As Jerry's four years of service were expiring, Senator O'Mahoney put in a good word for Jerry with the diplomatic services in Norway. Jerry received an official offer letter at the base, raising eyebrows with his superiors with i's United States Seal. He considered the opportunity, but he just wanted one thing: to return to the ranch in Wyoming. However, when he did, he found that the ranch was being managed by his older brother Jim, and there wasn't room for two. He received military citations for good conduct and for being a sharpshooter—and he was awarded Airman of the Month on the Saratoga base.
He moved to Sheridan, enrolled in Sheridan College, and worked four jobs as cleaner at the WYO Theatre, bartender at the Bison Bar, sheep shearer and the railroad. He started working for an extra gang for the CB&Q in Sheridan in 1957. That year, he met Darlene Paulsen and they were married on December 14, 1957—married for 64 years. Darlene had been raised in the Sheridan/Decker area in a ranch family and they had much in common. After he retired from the railroad, he never liked to be far from her side.
Jerry received a lucky break as he liked to say, when he was hired as a conductor/brakeman in 1957, a position he kept for 17 years. Then he decided he wanted to run an engine, even though he knew he would start at the bottom of the roster. In 1974 he became an engineer trainee and "he went firing" on Nov. 11, 1974 and was promoted to Burlington Northern locomotive engineer two weeks later. He made his last run February 23, 1993. As locomotive engineer of a SD40 and SD60 in a short pool out of Sheridan, Wyo. between Sheridan and Decker, MT.
In retirement, he was able to actually get a good night's sleep after years on the road, and he enjoyed making up for lost time with his wife Darlene and family. He loved camping in his trailer, cooking in his turkey cooker, and growing tomatoes—his tomato growing skills were even featured on the front page of the Sheridan Press. He loved his dogs Sasha and Tucker who gave great joy. He will be terribly missed. He was preceded in death by his brother Jim, stepsisters; his parents E.D. and Adeline. In lieu of flowers donations would be appreciated to go to the Sheridan Dog and Cat Shelter. A viewing will be held at Sheridan Funeral Home between 11 and 12 noon on Thursday, December 2, 2021. A graveside service will be held in the Sheridan Municipal Cemetery at 1:00 pm on Thursday, December 2, 2021. Sheridan Funeral Home has been entrusted with local arrangements. Online condolences may be written at info@sheridanfuneral.com.