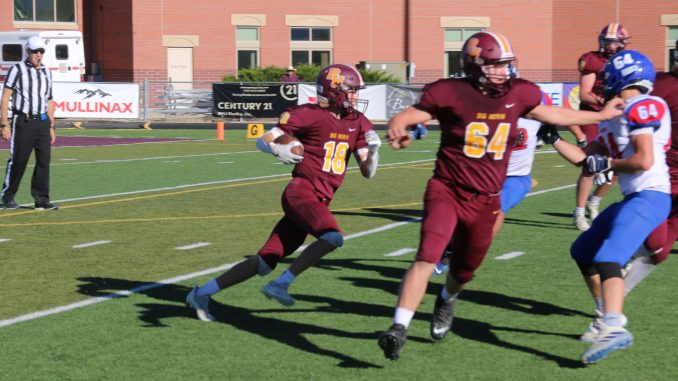 In the last home game of the 2021 regular season, Big Horn lead Upton-Sundance 14-7 at the end of the first quarter, but it was all Patriots after that, as the Rams would lose 40-14.
The Rams needed some help to make the playoffs and they got it, when Newcastle lost to Wheatland and Burns lost to Torrington.
BH finished in a 3-way tie with Tongue River and Newcastle for the #4 playoff spot in the East.
Since BH beat Newcastle, and Newcastle beat TR and TR beat BH, the next tie-breaker is record vs. highest team in the conference not involved in the tie (or next highest, next highest, etc…)
All 3 teams lost vs. Torrington, Wheatland and Upton-Sundance, and won vs. Burns and Glenrock.
The next tie-breaker was point differential for the 3 teams vs. each other (maximum 12, so as not to encourage running up the score).
BH had a scoring differential of +11, while TR had a -2 and Newcastle had a -9, thus Big Horn got the playoff spot, and the season ended for Tongue River and Newcastle.
The Rams are on the road for the first round of the playoffs on Friday, October 29th at defending 2A state champ Lyman.
First Quarter:
0:03 – 0:15 Keaton Mills 30 yard pass to Levi Rudloff from US 33 to BH 37
0:16 – 0:33 Reece Barritt 37 yard touchdown run on 4th and 11 Upton-Sundance 7 Big Horn 0
0:34 – 0:48 Cooper Garber 21 yard pass to Jax Zimmer from BH 32 to US 47
0:49 – 1:03 Garber 47 yard touchdown pass to Dawson Richards Big Horn 7 Upton-Sundance 7
1:04 – 1:15 Garber 31 yard pass to Zimmer from BH 49 to US 20
1:16 – 1:30 Garber 15 yard run from US 24 to US 9
1:31 – 1:40 Garber 3 yard touchdown run Big Horn 14 Upton-Sundance 7
Second Quarter:
1:41 – 1:52 Jeral Nehl (US) sacks Garber (BH)
1:53 – 2:05 Mills 27 yard touchdown to Rudloff Upton-Sundance 14 Big Horn 14
2:06 – 2:14 Mills 19 yard touchdown pass to Kaedyn Fletcher Upton-Sundance 21 Big Horn 14
2:15 – 2:21 Big Horn homecoming King and Queen 2021
Third Quarter:
2:22 – 2:43 Big Horn kickoff. Barritt returns kickoff for 80 yards Upton-Sundance 27 Big Horn 14
2:44 – 2:56 Barritt 18 yard run from 50 to BH 32
2:57 – 3:10 Mills 32 yard touchdown pass to Luca Brooks Upton-Sundance 33 Big Horn 14
3:11 – 3:22 Mills 13 yard touchdown pass to Barritt Upton-Sundance 40 Big Horn 14
3:23 – 3:33 Fletcher and Nehl (US) sack Garber (BH)
3:34 – 3:45 Garber 24 yard pass to Dylan Greenough Groom from BH 28 to US 48
3:46 – 3:59 Barritt 21 yard run from US 38 to BH 41
Fourth Quarter:
4:00 – 4:07 Nathen Baker and Aidan Coberly (US) sack Garber (BH)
4:08 – 4:16 Baker (US) sacks Garber (BH)
4:17 – 4:27 Fletcher (US) sacks Garber (BH)
4:28 – 4:35 Hayes Halar (US) sacks Garber (BH)