Anya Yermakova, Chicago provides the music
Stephen Joshua Sondheim, who passed away on Nov. 26 at the age of 91, was an American composer and lyricist. He was among the most important figures in 20th-century musical theater, Sondheim was praised by some for having "reinvented the American musical." He wrote the lyrics to West Side Story in 1957, and Gypsy in 1959. Some of his better-known works are A Funny thing Happened on the Way to the Forum, (1962) and Follies, (1971)
On Thursday night, Dec 2, several residents at the Ucross Foundation held a tribute to Stephen Sondheim and his music. Participating in the program were brothers Daniel and Patrick Lazour, composer and playwright, respectively; Khiyon Hursey, music composition, all from New York, NY; and Anya Yermakova, music composition, from Chicago; as well as Ryan Landis, Ucross residency manager and opera singer.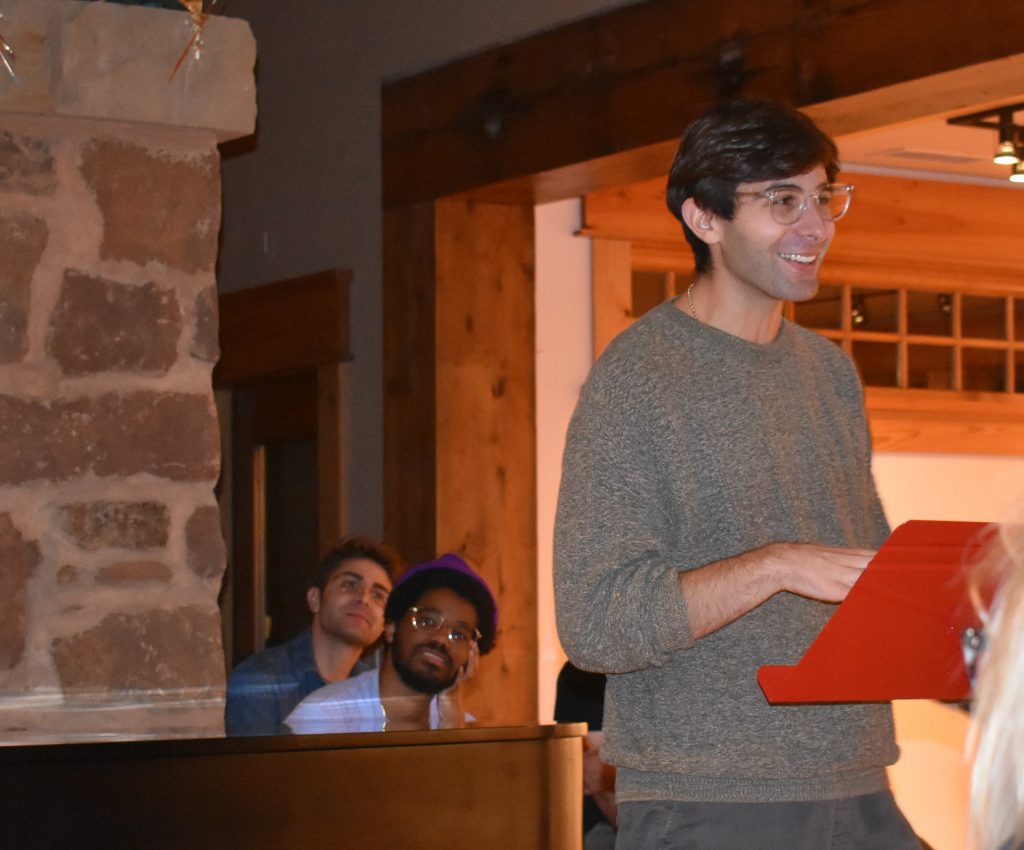 Patrick Lazour introduced the program. He quoted from one of Sondheim's books, saying this
Hursey, Daniel and Patrick Lazour, and Landis each performed a Sondheim composition and told a story about the composer. Hursey, a teacher, shared a story about asking Sondheim to come and speak to his students. Although Sondheim, due to many engagements, could not come to Hursey's class, he did take the time to write an email, which Hursey said he treasures.
At the end of the program, all the musicians came together for the final, singing, Send in The Clowns, a popular Sondheim recording.
Yermakova, who hails from Chicago, accompanied the singers on the Baldwin grand piano which is on long-term loan to the Ucross Foundation by Ron Krikac. She said this about being a resident here.
The program was attended by around 20 area residents, and Caitlin Addlesperger, communications and special events manager at the Ucross Foundation felt the event went very well, and said it was the resident's idea to put on the show.
Upcoming events at the Ucross Foundation include the annual tree lighting, fireworks and the reading of a Christmas story by Craig Johnson on Dec. 11, starting at 4 p.m.