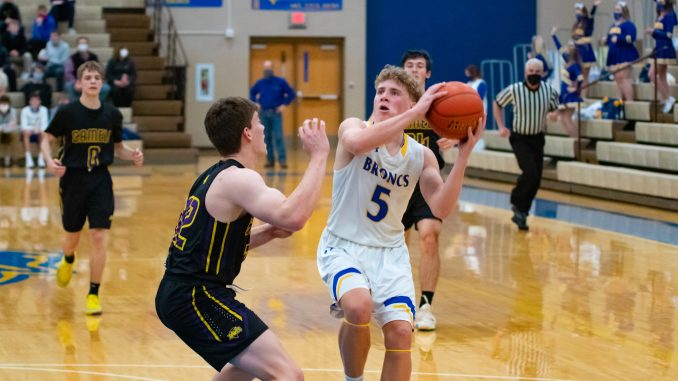 SPORTS POSTSEASON BEGINS THIS WEEK WITH THE CONFERENCE SWIMMING AND DIVING MEET AND THAT WILL BE FOLLOWED BY STATE SWIMMING, THEN INDOOR TRACK, WRESTLING, AND BASKETBALL.
SHERIDAN HIGH SCHOOL ACTIVITIES DIRECTOR DON JULIAN SAYS THE WINTER SEASON HAS BEEN VERY GOOD FOR ALL OUR TEAMS ESPECIALLY THE LADY BRONC BASKETBALL PROGRAM.
SWIMMING AND DIVING, WRESTLING AND ALL THE REST HAVE REALLY BEEN TOUGH ALL-SEASON.
THE BRONC AND LADY BRONC BASKETBALL TEAMS HOST CHEYENNE CENTRAL TOMORROW NIGHT AT 5:30 AND 7:00 YOU CAN HEAR THE GAMES ON KWYO AND 106.9 FM. SATURDAY IT'S CHEYENNE EAST AT 11:30 AND 1:00.
THE BIG HORN TEAMS HOST GAMES WITH TONGUE RIVER TONIGHT THEN PLAY AT RIVERSIDE TOMORROW AND HOST NEWCASTLE SATURDAY.
THE EAGLES AND LADY EAGLES WILL HOST GAMES WITH SUNDANCE SATURDAY AFTER TONIGHT'S GAMES AT BIG HORN.
THE BRONC SWIMMERS AND DIVERS START THEIR CONFERENCE MEET TOMORROW IN GILLETTE.
THE BRONC AND LADY BRONC INDOOR TRACK TEAMS HAVE A STATE QUALIFYING EVENT IN GILLETTE THURSDAY.
THE BRONC WRESTLERS HAVE DUAL MATCHES AT CHEYENNE CENTRAL AND EAST TOMORROW THEN THEY DUAL CHEYENNE SOUTH AND LARAMIE SATURDAY.
THE SHERIDAN JUNIOR HAWKS TAKE THEIR 24 GAME WINNING STREAK TO GILLETTE FOR GAMES TOMORROW ON SATURDAY NIGHT.
THE WYOMING COWBOYS HOST COLORADO STATE TONIGHT THE GAME TIPS OFF AT 7:00 ON 1410 KWYO AND 106.9 FM.
THE WYOMING SHRINE BOWL FOR 2021 HAVE NAME THEIR ROSTERS, OFFICIALS, MANAGERS, AND TRAINERS.  EXECUTIVE DIRECTOR FRANK SELBY ANNOUNCED THAT HEAD COACHES FOR THE SOUTH WILL BE  MATT McFADDEN AND HIS STAFF.   THE NORTH TEAM HEAD COACH WILL BE BRENT WALK AND HIS STAFF.  SELECTED FOR THE NORTH TEAM IN OUR AREA INCLUDE QUINTON MANGUS, KYLE MEINECKE, AND JUSTIN VELA OF SHERIDAN.  WINFIELD LOOMIS OF BIG HORN AND HYRUM HATCH OF BUFFALO.   ALSO SELECTED IS STUDENT TRAINER SARAH MANOR OF SHERIDAN.  THE ADULT  ATHLETIC TRAINER WILL BE JESSICA GARDEN OF SHERIDAN.  THIS YEAR'S ALL-STAR FOOTBALL GAME WILL BE HELD ON SATURDAY JUNE 12 AT THE DICK CHENEY ALUMNI FIELD IN CASPER.