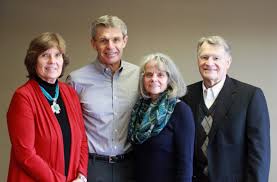 Four people who were to have been honored earlier this year as the 2020 Keystone Award nominees will be honored this coming April in ceremonies at the WYO Theater.
Carmen Rideout, who's executive director at The Hub on Smith Street, said the April 2020 event was canceled because of COVID-19.
The four to be honored are Edre Maier, Everett McGlothlin and Casey and Sue Osborn.
Rideout said those at The Hub are excited about having the awards ceremony next year. She said the date for the event is tentative right now, based on how the Sheridan community is faring with the coronavirus.
The Keystone Awards are a one-of-a-kind celebration, modeled after the Kennedy Center Honors, that's designed both as a fundraiser for The Hub and a way to celebrate and honor individuals who have dedicated their lives to the community.
The event in past years has included entertainment, formal awards presentations, a dream vacation raffle, catering and an after-party.