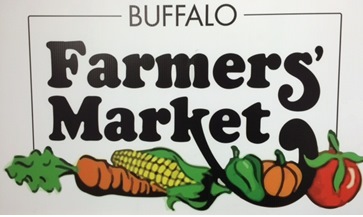 The Buffalo Farmers' Markets will continue every Wednesday evening through September 20th, featuring local produce, fruit, meat, eggs, baked goods, honey and vendors offering crafts, pottery, knitting and other hand-crafted items.
The next market will be this evening from 4 to 7 in Crazy Woman Square.
In a release earlier this week, the chamber of commerce said they are asking the public to follow a few rules while shopping at the markets while the COVID-19 pandemic is still active.
They ask that those that have masks to wear them, to use the hand sanitizer provided throughout the market area, to please not touch the merchandise vendors are offering and to ask the seller to handle and bag them, to remain 6 feet from shoppers and vendors, and to follow the one direction traffic signs to keep shoppers distanced and to keep the market moving.
Anyone having questions can find Buffalo Chamber of Commerce Board member Kylee Seymour, who organizes the weekly events, on-site during the Farmers' Markets.
For more information or to sign up as a vendor, contact Kylee Seymour at:
c_morekylee7@yahoo.com