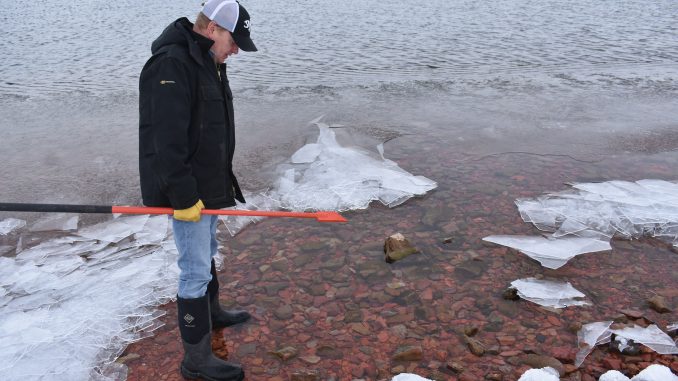 Jeremy Zumberge, DEQ pointed out that green algae on rocks is normal and not toxic
On Dec, 8 the Wyoming Department of Health issued a harmful cyanobacterial bloom (HCB) recreational use advisory for Lake DeSmet. HCB is also called, 'blue-green algae' and can be harmful to humans and pets. This advisory was based on data provided by the Wyoming Department of Environmental Quality (DEQ) in Johnson County.
Due to the warning, there was concern among those who planned to participate in the annual Polar Plunge at Lake DeSmet on New Years Day.
Jeremy Zumberge, Watershed Protection Monitoring Program Supervisor at the DEQ Sheridan District office, has been monitoring the situation at Lake Desmet, and was at the Lake on Thursday, Dec. 30.
"I never would have guessed I would be looking for HCB on Lake DeSmet two days before January 1," Zumberge said. He said that on Thursday he did not see any of the harmful blooms on the north end, and that the north end is getting pretty well iced over. He checked the water near the Monument Boat Ramp and the beach nearby, two areas of the lake that are often where the Polar Plunge is held.
"There is a risk," Zumberge said. "But from my observations the risk is very low." The blooms are most common in the summer, and he said it is unusual to issue an advisory during the winter months, when the DEQ usually lifts the advisories. He also said that with the lake icing over, the blooms were less apt to move with the wind across the lake.
Additional details regarding advisory status, including changes to the type of advisory, and other HCB resources can be found at WyoHCBs.org.
Water bodies under an advisory are not closed completely since HCBs may only be present in certain areas and conditions can change frequently. Advisories will remain in place until blooms have fully dissipated and cyanotoxin concentrations are below recreational use thresholds identified in Wyoming's HCB Action Plan.
For more information Contact Courtney Tillman at courtney.tillman@wyo.gov or (307) 777-5522 or the Kelsee A Hurshman, Natural Resource Analyst (307)777-2073 at Wyoming DEQ kelsee.hurshman1@wyo.gov