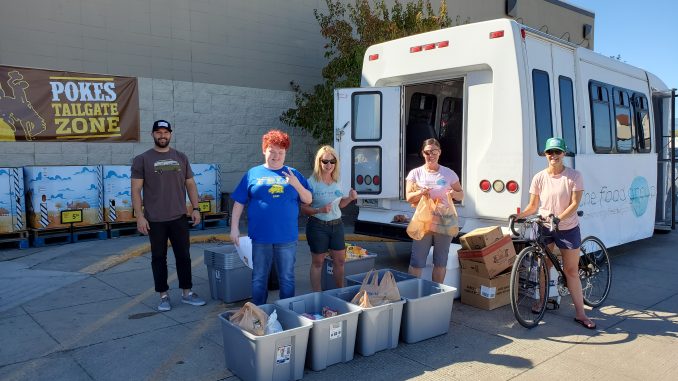 Sheridan and surrounding communities responded with overwhelming generosity on Saturday when The Food Group parked their bus at Albertsons and asked shoppers to help fill it up with groceries and other necessities in a food donation event sponsored by ERA Carrol Realty and Eliason Financial.  
Albertsons manager Robert Palmer said the store was pleased to support the cause and grateful to the community for their support.
Blake Winters, Director of Business Development at Eliason Financial volunteered to help during the event.  He said it felt good to help The Food Group provide for the community.
Another FILL THE BUS event is planned for Saturday October 2nd from 10am to 2pm at Ridley's Family Market, 169 Coffeen Avenue. You can also find donation bins at both Albertson's and Ridley's in case you can't attend the event while the bus is there. For more information and a list of items The Food Group needs click the FILL THE BUS banner on the Sheridan Media home page.