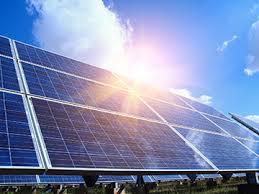 A proposal for a solar energy project in Sheridan County will go before the Sheridan County planning commission next Thursday.
That's according to County Planner Mark Reid, who said a company called Sheridan Solar LLC has applied for a commercial solar energy facility permit under a relatively new state law.
Reid said the planning board will make a recommendation, then the application will go before Sheridan County commissioners on Jan. 19 for hearing and final consideration.
He said the proposed project is a 20-megawatt facility that would consist of approximately 90,000 photovoltaic arrays. Reid said each array is about 80 inches by 40 inches in size. The facility is to be located on Swaim Road, southwest of the city of Sheridan, on land owned by SunSource LLC and being leased to Sheridan Solar.
If granted, this would be the first permit for a commercial solar energy facility in Sheridan County. Reid said according to information from the Solar Energy Industries Association, which determines the capabilities of solar power on a state-by-state basis, the Sheridan county facility could power nearly 3,000 homes.
Reid said the project if approved would eventually tie into an existing Montana-Dakota Utilities substation on Swaim Road.