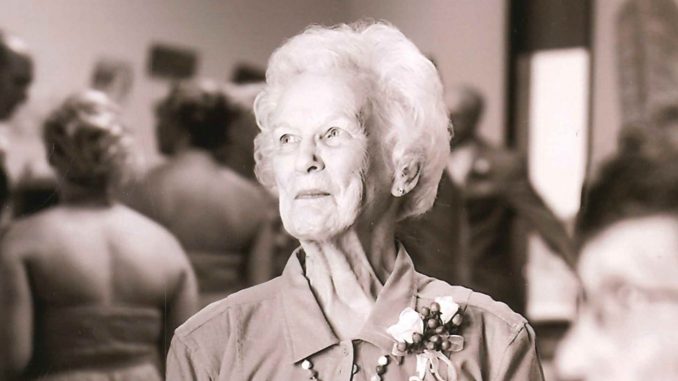 Private family services for Joan Cross, 89-year-old long time Buffalo resident who passed away Sunday at the Amie Holt Care Center in Buffalo will be held Monday, March 23 at 10:00 a.m. from Harness Funeral Home Chapel in Buffalo with Father Doug Wasinger officiating. Visitation will be held on Sunday from 1:00 p.m. until 9:00 p.m. at the Harness Funeral Home Chapel.  Interment will be in Willow Grove Cemetery with graveside services to follow the funeral.  Donations in Joan's memory may be made to St. Luke's Episcopal Church in care of the Harness Funeral Home at 351 N. Adams in Buffalo.  Online condolences may be made at www.harnessfuneralhome.com  In compliance with recent virus protocols this funeral will be live-streamed for  Joan's many friends through a link provided by visiting the tribute wall listed within Joan Cross's obituary on the Harness Funeral Home website at www.harnessfuneralhome.com
Dorothy Joan Cross was born on August 24, 1930, in Redfield, South Dakota to Charles and Helen West.  She grew up and went to school in Philip, South Dakota and graduated from Philip High School with the class of 1949.  She was married to Jerry Cross on November 26, 1950, in Philip, and they made their home in Spearfish where Jerry finished his education. In 1954 they moved to Buffalo where Jerry took a job with Johnson County School District #1 and Joan was a homemaker.  In the early 1970's she went to work for the school district as a secretary/bookkeeper.  She retired in 1992 and they continued living in Buffalo.  Jerry passed away in August of 2016 and Joan lived in Buffalo until her death.
She was an active member of St. Luke's Episcopal Church, a hospice volunteer, a very avid bridge player and loved traveling.   She was an excellent baker, but her passion was spending time with her family. She is survived by four daughters, Karen Cross of Buffalo, Kathy Born and her husband Greg of Buffalo, Nancy Ratcliff and her husband Doug of Gillette, Wyoming and Janice Anderson and her husband Craig of Buffalo; one brother Mike West of Philip, South Dakota; eight grandchildren, nine great-grandchildren, and one great-great-grandson. She was preceded in death by her parents, her husband, two sisters, and one great-grandson.