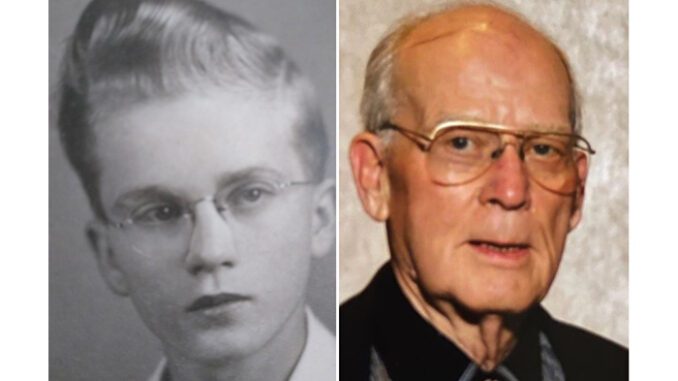 John P. Day was born in Las Animas, Colo. on July 19, 1927, to Sterling A. Day and Pauline Walton Day and departed this life on Jan. 31, 2023, in the presence of his beloved family. After graduating from Sheridan High School John married LaDonna Jean Anderson in 1949 and celebrated 60 years of marriage until her death in 2009. He joined the US army in 1950 and was stationed in Japan serving as a Pay Master. Following his honorable discharge from the service he owned Park Street Grocery in Sheridan. In 1960 he joined his mother and father, Sterling and Pauline Day (owners of The Men's Shop; and Angionettes and the Piccadilly Shop) as manager of The Mens Shop. In 1979 his son John A. Day joined him as a business partner in The Mens Shop until they sold it in July 2020.
When John wasn't working you could find him greeting his friends while walking daily on Main Street. He also had a passion for motorcycle riding which he enjoyed until the age of 90 years old! He especially enjoyed riding with his son John and many friends. They would look forward to their yearly July 4th motorcycle trip through the Big Horn and Rocky Mountains. He will always be remembered for his quick wit; his love of old movies and music. He was an avid reader of history and biographies.
In his short retirement, he enjoyed traveling to Colorado and Texas to visit his adult children and grandchildren. John lived a full life and was fortunate to be surrounded by his devoted family and many friends which brought him the most joy in his life.
He is survived by his 3 children 1) Lois Marie Waldron (husband Charles Waldron) of Georgetown, Tx; 2) John A Day (wife Eriko Kishiguchi Day) of Sheridan; 3) Laurie Trabue Serna (husband Guadalupe Serna) of Hurst, Tx. He is also survived by his brother Rev. Samuel Sublette Day; 5 grandchildren: (Amy Cradduck; Katie Wilde; Shawn Day; Sabrina Weros; and Erika Serna); 8 great-grandchildren ( John Sterling; Ainsley Marie; Henry Trabue; Hannah Trabue; Ella Marie; Kylie Marie; Gisela Day; Serafina Blue) and 25 nieces and nephews. He was preceded in death by his parents Sterling and Pauline Day; a grandson Brian Sterling Johnson and 4 siblings Sterling W. Day; Angionette Warfield; Dorothy Savage; and Robert Day.
The family would like to thank the staff at "Green House for Living" who provided love and care to John over the past year.
No services are planned at this time. Online condolences may be made to www.sheridanfuneral.com. Arrangements are under the care of Sheridan Funeral Home.