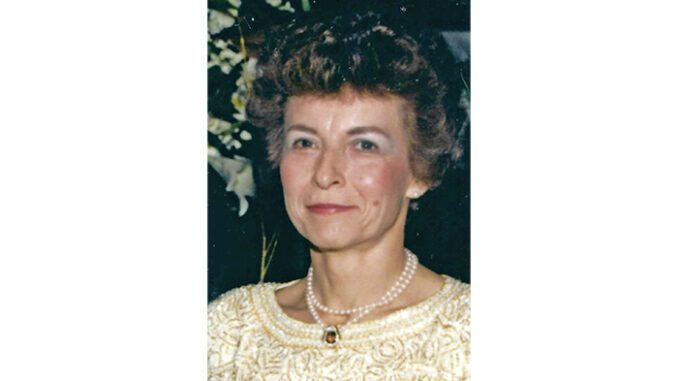 Our beloved, Nadine passed away peacefully with her daughter Brenda and loving dog Sophie by her side on Sunday, November 27, 2022, in Pinckney, Michigan. Nadine was born June 2, 1941, in Gering Nebraska, the daughter of Vincent and Elsie (Hoffman) Boley. She was raised in Sheridan, Wyoming with her three sisters (Madonna, Veronica, and Vicki) and brother (Neil).
After graduating from Sheridan High School, Nadine started her life journey and married her first husband, Richard Allen from Sheridan. They raised their two daughters, Brenda and Debbie while living between California and Illinois.
Her professional career started in finances as a bank teller, she quickly moved up the ladder in the financial industry to eventually co-own her own businesses with her second husband, Robert Gorski.
Nadine was able to accomplish much throughout her lifetime, yet always prioritized time with her family. She had many gifts including being a wonderful seamstress, a talented quilter, a jewelry designer, a photographer, the family genealogist and so much more. Nadine had so many gifts to give but the greatest gift she gave was the time that she spent with her loved ones. She spent her life being a supporting and loving daughter, mother, wife, and grandmother.
Nadine has left a beautiful family legacy. She is survived by two daughters; Brenda (Jeffrey) Kentor and Debbie Gorski, a brother; Neil Boley, grandchildren; Casey Michaels, Jonathan (Kelly) Michaels, Cameron (Jamie) Michaels, and Katie Michaels, and two great-grandsons Carson and Jaxton, nieces and nephews; Frank, Vicki, Brewton, Nicki, Mark, Scott, Tonya, Tina, Kristy, Kerry, and many grand nieces and nephews.
She is preceded in death by her husband; Robert Gorski, her parents; Vincent and Elsie Boley, and her sisters Madonna, Veronica, and Vicki.
A private graveside ceremony for family members will be held on December 9, 2022, followed by a celebration of life gathering (TBD). The family asks that in lieu of flowers, donations can be made to the Dog and Cat Shelter of Sheridan, Wyoming in her memory.
Online condolences may be written at www.kanefuneral.com. Kane Funeral Home has been entrusted with local arrangements.