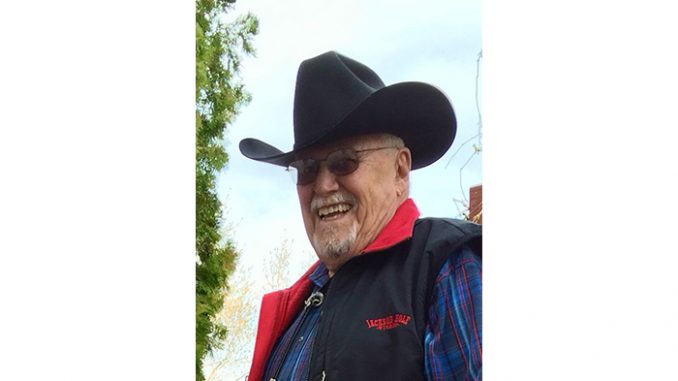 Ronald Datus Chandler, 83, a long-time Sheridan businessman, went to be with his son, Gregory, on May 6, 2022. He passed quietly at Sheridan Memorial Hospital, with excellent care provided by the SMH staff.  Ron was born in Crow Agency, MT, on July 29, 1938, to Burton and Marcleen Chandler. He was an enrolled member of the Crow Tribe.
Ron attended school in Lodge Grass, graduating in 1957. He enlisted in the US Army and attended basic training at Fort Ord, CA, then shipped to Fort Sam Houston, TX, for medical and dental training. He was stationed in Italy (Leghorn and Verona) for 30 months and returned to Fort Sheridan, Chicago, IL, where he was honorably discharged. He then returned to Lodge Grass, where he worked on ranches and farms, as he had done in high school. During this time, he met and married Linda Hamilton of Dayton, WY. After a short honeymoon, they moved to Sheridan and had two sons, Jeffery and Gregory.
In 1976, Ron bought Harnish Dental Lab and later changed the name to R.D. Chandler Dental Lab, Inc. Ron and Linda worked side by side at the dental lab for 32 years, retiring in 2007.
In 1981, Ron became a Master Mason in Lodge #8 AF & AM. He later became a member of the Scottish Rite Bodies, Valley of Sheridan, the York Rite, York Rite College, and St. Deny's Conclave #40 Red Cross of Constantine. He became a member of Kalif Shrine Temple in 1982, belonging to several units; the Kalif Shrine Horse Patrol was his final unit. Ron was the Potentate of Kalif Temple in 1991, the president of the North-South Shrine Football Bowl in 1992, a member of the Royal Order of Jesters #135, and a Kachina Klub member.
Ron is survived by his wife of 60 years, Linda, who remains in Sheridan, and his daughter Leslie Chandler, who is currently stationed at Fort Bliss, TX. He has six grandchildren, Zachery and Jacob of Seattle, WA, Morgan, and Lindsey of Atlanta, GA, and Phoebe and Nicholas of Tacoma, WA. He is also survived by three brothers, Gary, Jack, and Mark, and his sister Melody.
He was preceded in death by his beloved son, Gregory Datus Chandler, in November 2021, his parents, his brother Burton, and his infant siblings, Wendall and Marcella.
Cremation has taken place, and at his request, there will be no services at this time. There will be a Celebration of Life in the Big Horn Mountains in August 2022.
Memorials to honor Ron can be made to the Kalif Shriners-Travel Fund, PO Box K, Sheridan, WY 82801. Online condolences may be made to www.sheridanfuneral.com. Arrangements are under the care of Sheridan Funeral Home.