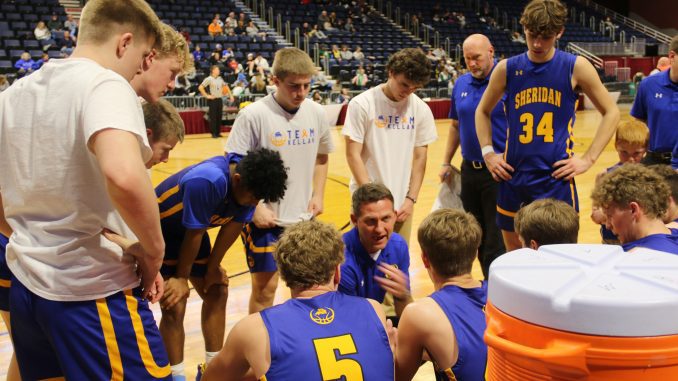 Sheridan shot 28.6% from the field, while Cheyenne East shot 50% and outrebounded the Broncs 38-23, on their way to a 58-44 win in the semi-finals.
Sheridan will conclude the 2021-2022 season in the 4A Boys 3rd place game on Saturday, March 12th, vs. Kelly Walsh at 3pm at Casper College.
Click here to see a box score from the game.
First Quarter:
0:10 – 0:18 Drew Jackson East 2 Sher 0
0:19 – 0:27 Garet Schlabs East 4 Sher 2
0:28 – 0:39 Kysar Jolley East 6 Sher 2
0:40 – 0:52 Cael Hamrick Sher 7 East 6
0:53 – 1:05 Kysar Jolley East 8 Sher 7
1:06 – 1:17 Colter McAnelly East 10 Sher 7
1:18 – 1:29 Drew Jackson East 13 Sher 7
1:30 – 1:39 Cael Hamrick East 13 Sher 10
Second Quarter:
1:40 – 1:49 Nick Colgan East 17 Sher 10
1:50 – 1:59 Alex Sanders East 17 Sher 13
2:00 – 2:09 Nick Colgan East 19 Sher 13
2:10 – 2:24 Jake Woodrow East 21 Sher 13
2:25 – 2:35 Garet Schlabs East 23 Sher 13
2:36 – 2:45 Drew Jackson East 25 Sher 14
2:46 – 3:04 Cael Hamrick and Colter McAnelly East 29 Sher 18
Third Quarter:
3:05 – 3:15 Zander Hardy East 37 Sher 21
3:16 – 3:25 Kysar Jolley East 39 Sher 23
3:26 – 3:37 Cole Leach East 39 Sher 25
3:38 – 3:46 Cole Leach rejection
3:47 – 3:56 Reed Rabon East 39 Sher 28
3:57 – 4:08 Drew Jackson East 41 Sher 28
4:09 – 4:20 Kysar Jolley East 44 Sher 28
Fourth Quarter:
4:21 – 4:31 Cole Leach East 54 Sher 32
4:32 – 4:47 Frank Sinclair rejection and Sean Sanders East 54 Sher 35
4:48 – 4:57 Kysar Jolley East 56 Sher 35
4:58 – 5:22 Frank Sinclair twice East 56 Sher 40
5:23 – 5:32 Alex Sanders East 56 Sher 44