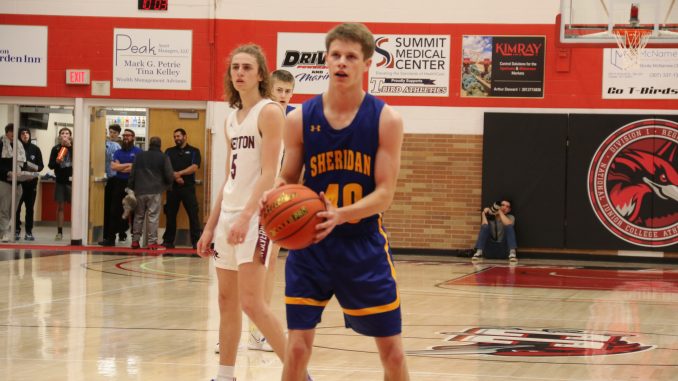 The Broncs jumped out to an 18-3 lead and shot 44% from the field compared to Riverton's 26%.
They also held the Wolverines to zero 3's, to win 57-32 in the first round of the 2022 Boys 4A State Tournament.
Sheridan next plays Cheyenne East in the semi-finals on Friday, March 11th at 9pm in the Ford Wyoming Center.
Click here to see a box score from the game.
First Quarter:
0:10 – 0:21 Frank Sinclair Sher 2 River 0
0:22 – 0:38 Sean Sanders Sher 5 River 0
0:39 – 0:49 Alex Sanders Sher 8 River 0
0:50 – 1:01 Reed Rabon Sher 10 River 0
1:02 – 1:11 Parker Paxton Sher 10 River 2
1:12 – 1:22 Frank Sinclair Sher 12 River 3
1:23 – 1:33 Sean Sanders Sher 14 River 3
1:34 – 1:42 Cole Leach Sher 16 River 3
1:43 – 1:53 Parker Paxton Sher 18 River 5
Second Quarter:
1:54 – 2:05 Lucas Engle Sher 18 River 7
2:06 – 2:15 Jason Vincent Sher 18 River 9
2:16 – 2:24 Tanner Johnson Sher 18 River 13
2:25 – 2:34 Sean Sanders Sher 21 River 13
2:35 – 2:44 Reed Rabon Sher 23 River 13
2:45 – 2:57 Frank Sinclair Sher 27 River 16
Third Quarter:
2:58 – 3:09 Kaden Bateson Sher 29 River 19
3:10 – 3:20 Alex Sanders Sher 31 River 19
3:21 – 3:32 Lucas Engle Sher 31 River 21
3:33 – 3:43 Parker Paxton Sher 31 River 24
3:44 – 3:55 Sean Sanders Sher 36 River 24
3:56 – 4:05 Cael Hamrick Sher 38 River 24
4:06 – 4:16 Garrett Spielman Sher 40 River 24
4:17 – 4:28 Parker Paxton Sher 45 River 28
4:29 – 4:40 Jason Vincent Sher 45 River 30
4:41 – 4:50 Kaden Bateson Sher 48 River 30
Fourth Quarter:
4:51 – 5:01 Jason Vincent Sher 48 River 32
5:02 – 5:15 Kaden Bateson Sher 51 River 32
5:16 – 5:25 Alex Sanders Sher 53 River 32
5:26 – 5:34 Jake Woodrow Sher 57 River 32