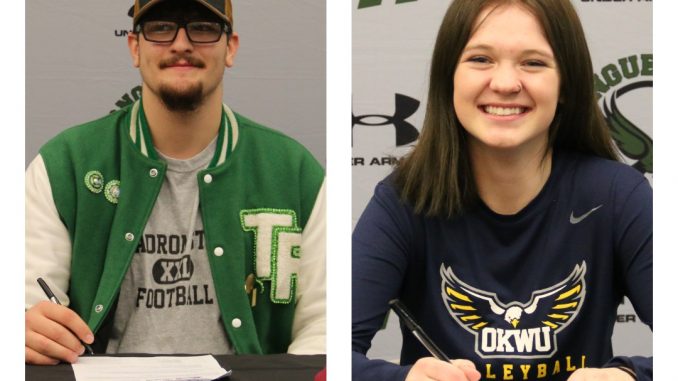 Two athletes at Tongue River High School will continue to play the game they enjoy at the collegiate level.
Jacob Knobloch has signed his letter of intent to play football at Chadron State in Nebraska, while Carleigh Reish signed hers to play volleyball at Oklahoma Wesleyan University.
Knobloch, who is enrolled in the Northern Cheyenne Tribe, led Class 2A in sacks with 8 of them this past season.
He says he's very familiar with the Chadron State area as well as the atmosphere, and he adds the college football coaching staff has been keeping an eye on him as well.
"I've been going there for 4 years with our camps and I've seen their facilities and when I went there for visits their schooling was really nice and the way they make you keep your grades up, it really spoke to me as that, because then I can actually graduate from the college and get my degree that I want and then with the sports they've been watching me grow since I was a freshman and they've seen what I can do and where they can put me in the right spots."
Knobloch says he hopes to major in livestock range management.
As fpr Reish, she says it was at a volleyball camp that got the attention of the Oklahoma Wesleyan Coach.
"The coach came up here and did a camp with our entire volleyball team and then she offered me a scholarship. I felt drawn there and I felt like I'm going to be playing a sport that I love and that's what I wanted."
Reish adds she hopes to major in nursing.
Oklahoma Wesleyan is an NAIA Division 2 private school located in Bartlesville, which is about 45 miles north of Tulsa, near the Oklahoma-Kansas border.