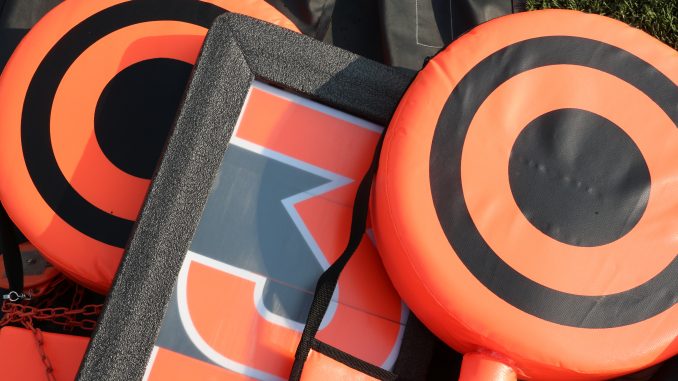 The Sheridan Bronc football team traveled to Cheyenne Central, and was all business after a redo of the opening kickoff.
When the initial kickoff went out of bounds, the Broncs elected to have the Indians re-kick with a 5-yard penalty attached.
Carter McComb fielded the kickoff at the Sheridan 29, handed off to Dom Kaszas on a reverse, and the latter was off to the races.
Just like that it was 7-0 Sheridan, 13 seconds into the game.
Central answered and became the first team to score on the Broncs this season, and would tie the game at 7.
The Broncs returned the next kickoff to the Central 36, and took advantage of the short field with Colson Coon getting the last yard, to make the score 14-7 after 1 quarter.
In the 2nd quarter, Michael Greer booted a 47-yard field goal to push the score up to 17-7.
About 1 1/2 minutes later Sheridan would recover a fumble near midfield and one play later, Rich Hall connected with Kaszas on a 58 yard play, and that made the score 24-7.
Kaszas would score his 3rd touchdown later on, by catching a 34-yard throw from Carl Askins, to put the Broncs ahead 31-7 going into halftime.
Neither team scored in the 3rd quarter.
Cheyenne Central scored twice in the 4th quarter to make the final score a little more respectable, but Sheridan would leave the capital city with a 31-20 victory.
The Broncs return home on Friday, September 17th for a battle of undefeated teams as Rock Springs comes to town.
Kickoff is scheduled for 6pm.