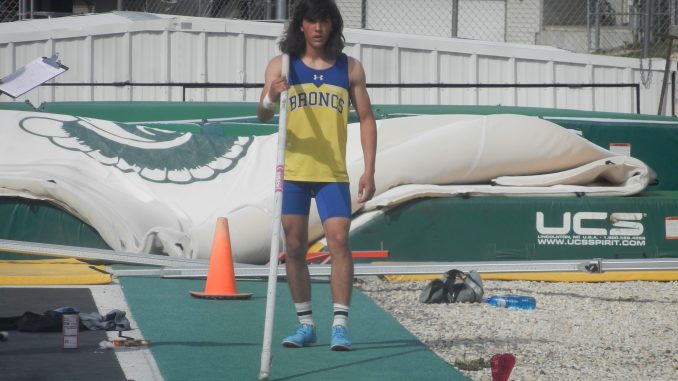 SHS STATE TRACK AND FIELD WRAP UP – Sixty two years is a long time to wait for a championship with the help of three first place finishes and six runner-up finishes, the Sheridan Bronc track and field team, won their first 4A Wyoming state championship since 1959.
Senior Gaige Vielhauer won the discus event with a throw of 160 feet 2 inches and was runner-up in shot put (57 feet 9.25 inches).
First places finishes also included the 4 by 400 meter relay team (Izak Aksamit, Nathan Fitzpatrick, Reese Charest, Carl Askins) with a time of 3 minutes 28.18 seconds and the 1600 meter sprint medley relay team (Caiden Martin, Dominic Kaszas, Izak Aksamit, Reese Charest) with a time of 3 minutes 37.53 seconds.
Other runner-up finishes were Junior Ryan Karajanis (pole vault…15 feet), Junior Reese Charest (800 meter run…1 minute 59.55 seconds), Senior Kyle Meinecke (110 meter hurdles…15.68 seconds), Sophomore Austin Akers (1600 meter run…4 minutes 36.74 seconds), and the 4 by 800 meter relay team (Patrick Aasby, Austin Akers, Blaine Johnson, David Standish…8 minutes 20.45 seconds).
The Sheridan girls finished sixth in the 4A team standings. Junior Dulce Carroll was runner-up in the high jump (5 feet 2 inches), while the 4 by 800 meter relay team (Jaylynn Morgan, Vivian Morey, Katie Turpin, Abby Newton) placed second with a time of 10 minutes 0.30 seconds.
POST SEASON SOCCER AWARDS – The Wyoming soccer all-conference and all-state honors have been listed Lady Broncs Ellie Williams, Aria Heyeneman and Aubrey Cooper were named to the all conference team with Williams and Heyneman making the all-state first team.
The Broncs had six make the all-conference team Chris Larson, Kaden Bateson, Oliver Bartel, Dane Steel, Colson Coon and Frank Sinclair. the 4-A boys all-state list has not been announced and is expected today.
TROOPER BASEBALL – The Sheridan Troopers will spend the Memorial day weekend this weekend playing at a tournament in Gillette they will play five games Friday through Monday.
BRONC FOOTBALL – The Sheridan Bronc football team is gearing up for it's off season with a team football come just a couple of weeks away.
Head coach Jeff Mowry says first up there are three changes to Bronc coaching staff this off season.
and he says the off season starts next week with preparation set to begin for their annual team camp.
ROCKIES BASEBALL – The Colorado Rockies beat New York Mets last night 3-2 game two tonight starts with the first pitch 5:10 on Smart Talk 106.3 FM.