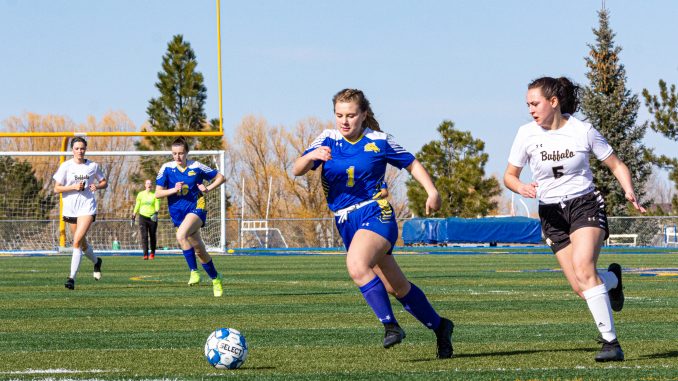 BRONC / LADY BRONC SOCCER – The Bronc and Lady Bronc soccer swept games from Campbell county last night the Broncs beat Campbell county 2-0 in overtime the Lady Broncs beat Campbell 2-0.
Head coach Kevin Riser said the Lady Broncs dominated the pace of play a coasted to the victory in the 2nd half.
The Lady Broncs are playing tough right now riding a nice winning streak.
The host number one ranked Thunder Basin Friday night to close out the regular season, in their first meeting of the season Thunder beat the Lady Broncs 5-0 and Riser talks about what has to be different in the game Friday for the Lady Broncs to get the result.
It's a varsity double header Friday the Lady Broncs play Thunder at 4:00 the Broncs and Bolts go at 6:00.
TRACK / FIELD – The Sheridan high school track teams close out the regular season in Gillette Friday.
TROOPER BASEBALL – The Sheridan Troopers will play two in Casper Saturday and host the club team the 406 Flyers from Billings on Mother's day
GOLF – The Bronc and Lady Bronc golfers will tee it up in their own invitational at Kendrick golf course Friday.
TENNIS – The Bronc and Lady Bronc tennis teams will close out their spring season in Billings Friday at an invitational hosted by Billings Central high school.