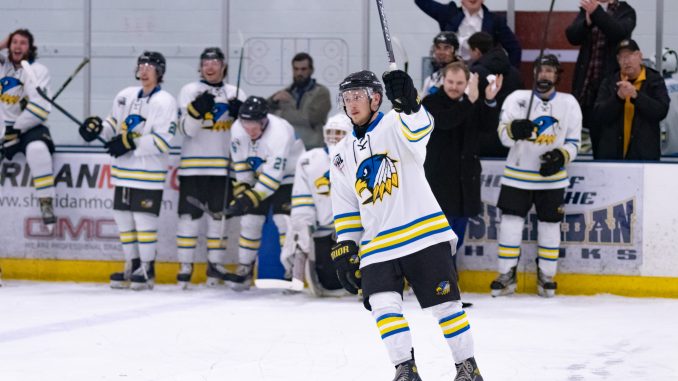 JUNIOR HOCKEY – The Sheridan Junior Hawks made it to the final four of the Fraser cup but were eliminated in the semi finals Sunday afternoon losing to the Rochester Grizzlies 7-1.
The result ends an historic season for the 2nd year team as the Hawks led the league in regular season wins including winning the Frontier division regular season and post season playoffs.
The national title game is being played today with Rochester playing the North Iowa Bulls.
TRACK AND FIELD – The Bronc and Lady Bronc track teams hosted the Dan Hansen invitational Saturday both the Broncs and Lady Broncs took the overall team titles.
The Tongue River Lady Eagles scored 53 points the Big Horn girls had 2 points in the boys team race Tongue River had 34 points and Big Horn had 32.5 points.
Sheridan high school has rescheduled the annual Gary Benson track meet to Thursday afternoon the event was set for tomorrow but weather has forced the postponement
SOCCER – The Bronc and Lady Bronc soccer teams swept all four games with Cheyenne South and Laramie the Lady Broncs won 1-0 in both games which were played indoors at the University of Wyoming.
The Broncs whipped south 4-0 and beat Laramie 2-1 Head coach Scott Soderstrom says the broncs had another very good weekend.
And now they get a nice break in their season for the next week and a half.
And during this time he says they have a couple of areas they need to work on to make sure they finish the regular season strong.
GOLF – The Buffalo golf invitational was called on Friday the Broncs and Lady Broncs are set to play in Powell Friday and the rescheduled buffalo event a week from today.