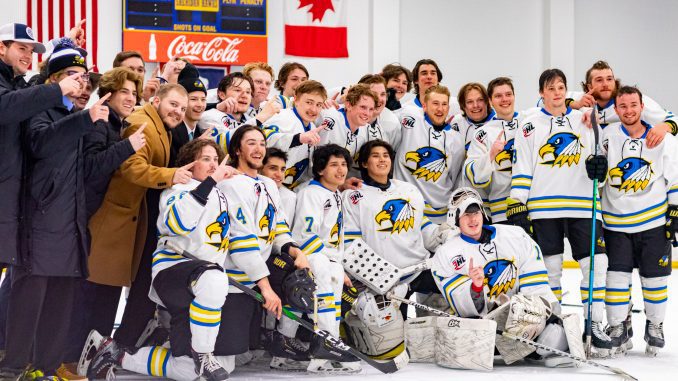 JUNIOR HAWKS (PLAYOFFS) – The Sheridan Junior Hawks wrapped up the Frontier division championship but it took three games against the Great Falls Americans the Hawks took game one in Great Falls the Americans took game two 7-3 and the Hawks closed out the series winning game three Saturday night 4-1.
(for some great in game photos go to sheridamedia.com and check out Hawks action shots from Steve Schreffler)
The Hawks now head to the Fraser Cup as the top six teams in the country meet to decide the overall national championship the Fraser Cup will be contested in St. Peters, Missouri
The Cup has two days of pool play the Hawks open Friday against the Northeast Generals and then the North Iowa Bulls Saturday. The semi finals will be played Sunday with the national title game set for a week from tonight.
BRONC / LADY BRONC SOCCER – The Sheridan high school soccer teams took on Cheyenne Central and East the Lady Broncs dropped both games on the road by scores of 2-1 in OT at Central and lost at East 3-1.
The Broncs stayed hot winning both at home beating Central and East 2-0. This week the Broncs host Cheyenne South and Laramie while the Lady Broncs travel.
WYOMING COWBOY FOOTBALL – The Wyoming football Cowboys have opened spring practice here's Head coach Craig Bohl.
One question that came up when Bohl met the media was the number of former Cowboys now playing in the NFL.
Sean Chambers is back to take over the quarterback duties again, Chambers season ended very fast in the fall with a leg injury he says he's back and ready for some new challenges.
TRACK AND FIELD – The Bronc and Lady Bronc track teams host the annual "Dan Hansen" invitational meet Saturday.
TENNIS – The Sheridan high school tennis teams play their next matches in Hardin, Montana Saturday.
GOLF – The Bronc and Lady Bronc golfers open their spring season in Buffalo Friday.