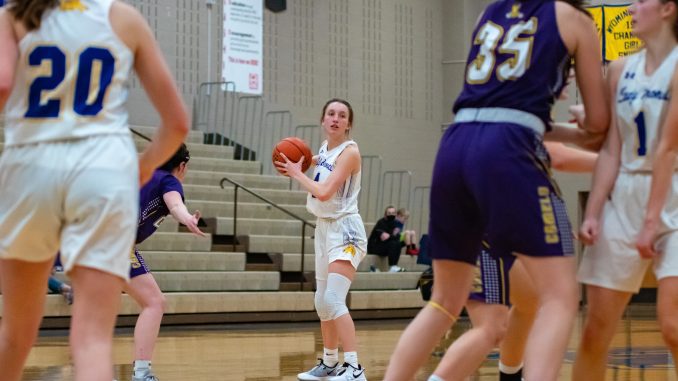 BRONC / LADY BRONC BASKETBALL – The Sheridan Broncs and Lady Broncs both finished third at the state basketball championships Saturday afternoon.
The Lady Broncs upset number one seed Natrona county in the first round the Broncs beat Riverton in the semi finals both teams had a hard time scoring and dropped both games and had to come back Saturday to play for third place.
Scoring wasn't an issue Saturday as the Lady Broncs put together a 20 point 4th quarter barrage and left Green River in the dust for a 58-46 victory, the Broncs shook off the semi final loss and whipped Star Valley 81-62.
Lady Broncs Head coach Ryan Sullivan the Lady Broncs came through big in the opener with Natrona and played great in the final game Saturday and showed everyone that they belonged in the state tournament.
And he says the tough regular season and regional tournament schedule helped them prepare and they pulled off two very good wins.
Broncs Head coach Jeff Martini showed the coaches and fans a lot Saturday coming back after a brutal semi final loss to finish the season with a strong effort in the game Saturday.
And he says with 21 victories the Broncs had a great season.
COWGIRLS BASKETBALL – The Wyoming Cowgirls will find out today where, when and who they will play in the opening round of the NCAA tournament, the women's selection show starts at 5:00 tonight live on ESPN.
JUNIOR HAWKS – The Sheridan Junior Hawks have won 34 in a row after dominating Missoula, Montana over the weekend.
They blasted the Bruins twice winning in a shut out 10-0 Friday and coming back Saturday night for an 11-4 victory. The Hawks play two in Gillette this week on Friday and Saturday night.