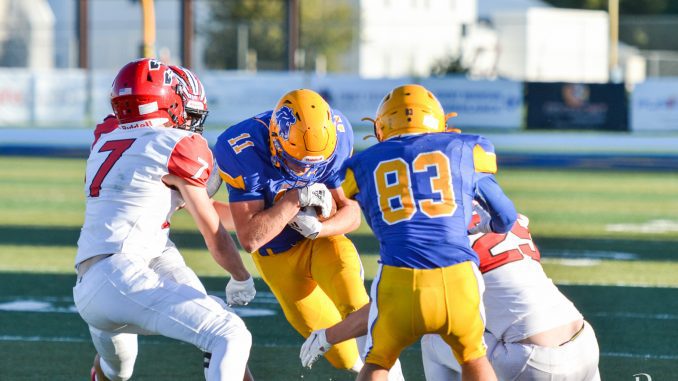 HIGH SCHOOL FOOTBALL – The Sheridan Broncs host the Cheyenne East T-Birds tomorrow night we will have it live for on 14-10 KWYO and 106.9 FM the First Federal bank and trust pregame show will start at 5:30 with kickoff at 6:00.
Going into week five Cheyenne Central is the only unbeaten in the 4-A and the inside track for home field advantage throughout the playoffs and with the Broncs and East right behind them with one loss tomorrow night's game could decide the other top seed for the playoff bracket. here's Head coach Jeff Mowry.
And after this game the regular season will be more than half over.
And Jeff says the T-Birds have a really good team again this season.
The Big Horn Rams play at Burns tomorrow, the Tongue River Eagles will host Newcastle and the NSI Wolves play at Midwest Saturday.
COWBOY CLASSIC FOOTBALL – This week's University of Wyoming classic football game will be the Pokes vs Colorado state from September 26th 2011 the Cowboys beat CSU 22-19 the game will air Saturday at 1:00 on 14-10 KWYO and 106.9 FM.
BRONCO FOOTBALL – The Denver Broncos host Tampa Bay Sunday afternoon kickoff is at 2:25 on 14-10 KWYO and 106.9 FM.
TENNIS – The Bronc and Lady Bronc tennis teams lpay at the state tennis championships in Gillette tomorrow and Saturday.
X-COUNTRY – The Sheridan high school cross country teams have their next race tomorrow in Casper.
VOLLEYBALL – The Lady Bronc volleyball team will be in Casper Saturday competing in a tournament.
The Big Horn Lady Rams and the Tongue River Lady Eagles will face off tonight in Dayton.
SWIMMING / DIVING – The Lady Bronc swimmers and divers are home this week, they will host Pre-invitational meet tomorrow evening and host the Sheridan invitational Saturday.
JUNIOR HOCKEY – The Sheridan Junior Hawks hockey team will open their season next week on the road at Bozeman, Montana their home opener will be October 9th and 10th hosting Butte.