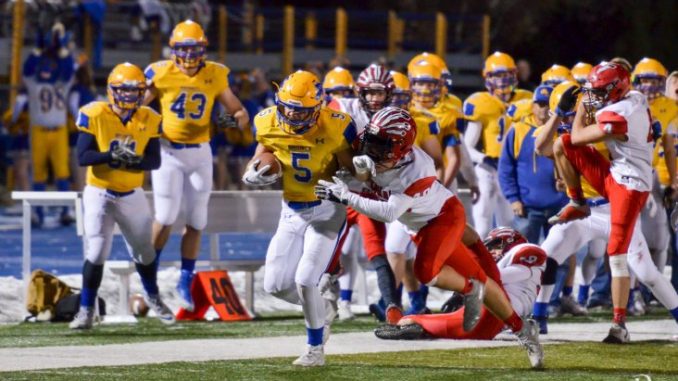 The 2020 Wyoming High School Fall Sports season started yesterday with practice for 4-A Football, golf, and tennis. Football will get underway this morning and again at 4:30pm this afternoon. Practice for Tennis will start at 8am this morning and again at 4pm. Golf practice us underway this afternoon at 1pm.
Volleyball, Cross Country, Swimming will start workouts on next Monday, August 17th.
Six Sheridan Troopers were announced to the All-State team on Monday from WYO Preps.
1st Team: Ayden Roush, Dalton Nelson, Carter Dubberly
2nd Team: Trevor Stowe, Justice Reece, Michael Greer
UNDATED (AP) — Will there be any college football this season?
The Mountain West has become the second FBS conference to postpone its football season, punting on the fall with an eye toward playing in the spring.
A person involved in the decision told The Associated Press the Mountain West would not play any sports in the fall.
The 12-team Mountain West joins the Mid-American Conference as leagues from the highest tier of NCAA Division I football to bail on the fall season and hope to make a go of it in the spring. The Mountain West features Boise State, Air Force and San Diego State, each of which were ranked at some point last year. A Big Ten spokesman said no votes on fall sports had been taken by its presidents and chancellors as of Monday afternoon, and the powerful Southeastern Conference made clear it was not yet ready to shutter its fall season. However, SEC commissioner Greg Sankey posted on Twitter that he doesn't know if college football can be played during the COVID-19 pandemic.