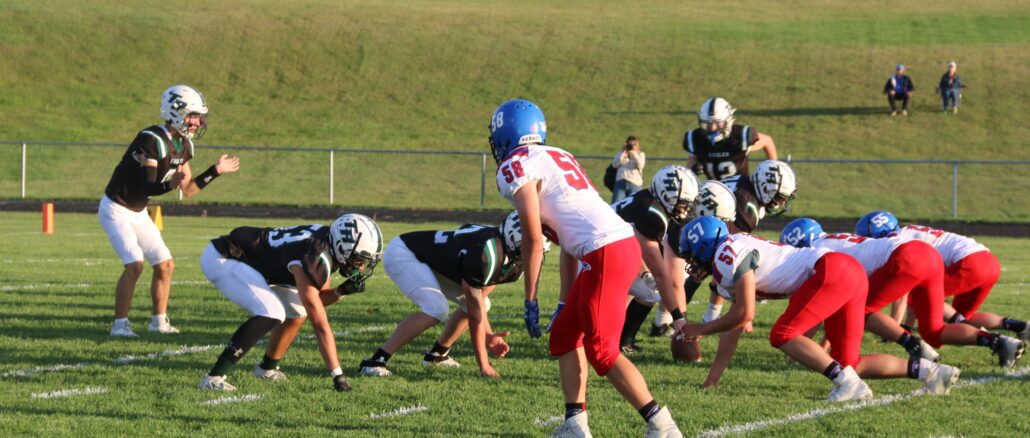 EAGLES FOOTBALL -The Tongue River Eagles clobbered the Upton-Sundance Patriots last night 44-0 to run their record to 3-0 overall and 2-0 in conference play, the Eagles play at Newcastle next week.
RAMS FOOTBALL – The Big Horn rams Play at home for the second straight week hosting winless Glenrock.

Currently the Rams have the #1 passing attack and the #1 overall offense in class 2A while the Herders have the worst rushing attack, and the 4th worst defense overall.

Rams Head coach Kirk McLaughlin says they played much better last week against Upton-Sundance than they did in week one at Lovell.
The only new issue that has developed is within the kicking game the Rams missed three PAT's last week and one field goal.

McLaughlin adds the game against Glenrock is the last chance to fix up a few things, because after this, the Rams play Torrington and Wheatland back-to-back on the road.
BRONC FOOTBALL – The Sheridan Broncs are back at home this tonight hosting Rock Springs we will have it live for you on KWYO 14-10 AM and 106.9 FM, the First Federal bank and trust pregame show starts at 6:30 with kickoff at 7:00 we will also have our live video webstream at sheridanmedia.com.
Broncs Head coach Jeff Mowry talks about the Bronc "keys" tonight for a good result.
COWBOY FOOTBALL – The Wyoming football Cowboys hit the road for a game at #4 Texas tomorrow night the game will kickoff at 6:00.
BRONCO FOOTBALL – The Denver Broncos host Washington Sunday afternoon kickoff is set for 2:25.
VOLLEYBALL – The Lady Bronc volleyball team will play this evening at home against Thunder Basin the varsity match will start at 6:00, tomorrow they play at Campbell county.

The Big Horn Lady Rams host Wright today and play at Thermopolis tomorrow.
The Tongue River Lady Eagles are idle this weekend.
SWIMMING / DIVING – The Lady Bronc swimmers and divers will compete in Gillette today and host Casper Kelly Walsh tomorrow.
X-COUNTRY – The Bronc and Lady Bronc cross country teams hosted the annual "Michelle Ludwig" Sheridan invitational Thursday at Black Tooth park.
The Lady Broncs finished 3rd led by Kayley Alicke with a 2nd place finish, Alyssa Felhauer finished 8th.
The Broncs won in a runaway led by Landrum Wiley winning the individual title followed in the top ten by Aadan Luna 4th and Shaun Gonda was 8th.
STATE GOLF – Wyoming high school golf state tournaments begin today, Big Horn and Tongue River will tee it up in n\Newcastle while the Powder Horn is hosting the 4A state tournament.