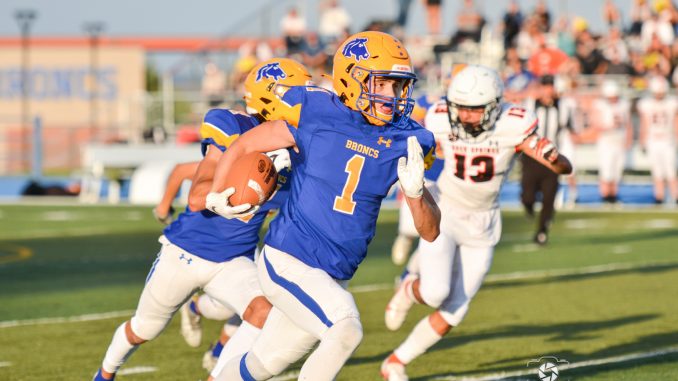 HIGH SCHOOL FOOTBALL – The Sheridan football Broncs and the Tongue River Eagles will play their season openers, tomorrow for the Broncs at home with Cheyenne Central and the Eagles will host the Bronc JV's Saturday
We will have the Broncs / Central game live for you tomorrow night, the First Federal bank and trust pregame show will start at 5:30 with kickoff at 6:00 you can hear all the action on 14-10 KWYO and 106.9 FM and watch it live with our video web stream at sheridanmedia.com.
GOLF – The Bronc and Lady Bronc golfers tee it today as they open a two day event in Gillette.
VOLLEYBALL – The Lady Bronc volleyball team plays at the Riverton invitational starting tomorrow.
SWIMMING / DIVING – The Lady Bronc swimmers and divers have the Gillette relays tomorrow and the pentathlon Saturday.
CROSS COUNTRY – The Bronc and Lady Bronc cross country teams run in Billings tomorrow.
TENNIS – The Bronc and Lady Bronc tennis teams play in Jackson tomorrow and then at Powell and Cody Saturday.
COWBOY FOOTBALL – The Wyoming Cowboys play at Illinois Saturday afternoon, kickoff is at 2:00 live on KWYO and 106.9 FM.
BRONCO FOOTBALL – The Denver Broncos host Minnesota Saturday night in their final preseason game and open the regular season September 12th at Seattle.