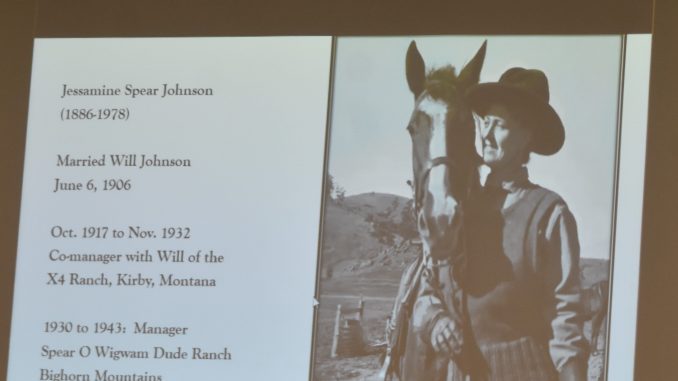 Jessamine Spear Johnson, photo courtesy of Tempe Javitz, copyright held by X4 LLC. Used by permission
Tempe Javitz, granddaughter of Jessamine Spear Johnson, early-day woman photographer, was the featured speaker at the Sheridan Community Land Trust Explore History program at the Hub on Jan. 11. Javitz joined the audience via zoom and talked about compiling her grandmother's photographs into an upcoming book and presented a slide show with some of Johnson's photos.
"I was raised on cattle ranch near Kirby, Montana," Javitz said. "A Bill Gollings painting of a cowboy roping a wolf hung over my father's chair. Fredrick Remington prints of cowboys and Indians followed me up the stairs and a Charles Russell calendar hung by the phone. Cheyenne Indian beaded moccasin and Crow belts hung on the walls next to my grandmother's photographs…. I though my grandmother was famous, the quality of her work being obvious."
As she grew older, she said she was disabused of that assumption. She said that women's accomplishments at that time were less valued than those of men in the same field. "Over time in our history women's contributions were often over-looked or undervalued," she said.
"On a visit home to Sheridan in 1978, I discovered a surprising legacy from my grandmother. My father had safeguarded her extensive photography collection. Thirty-four boxes of her prints and negatives and her old cameras were stashed in our basement."
Javitz added that she also came into possession of Johnson's diaries from a friend of her family. "It was an amazing treasure trove. I was inspired to resurrect my grandmother's legacy." When she retired, she had time scan the old photos, from the 1900s to the 1950s, and to read her grandmother's letters and diaries.
One by one, wearing cotton gloves, Javitz carefully opened the boxes and scanned the photos into her computer, copied then on archival paper and read and outlined Johnson's diaries and letters, picking out pertinent quotes.
Javitz said that Johnson recorded the enormous changes around her. Her love of creating photos added a great dimension to her life. She raised seven children and helped her husband on their ranches as well as helping to manage Spear-O-Wigwam and was probably one of the first women managers of a dude ranch in Wyoming.
Javitz then presented the slide show of her grandmother's photos which will be featured in the book. The first slide was the introduction page of the book, showing the brands that her family used.
There were four brands, the first is the Spear-O brand, registered by Willis Bradford Spear in 1896. Willis Moses, or Willis Jr, and his brother Doc, created Spear-O cattle company in 1897 and it lasted until 1915. until bad winters put an end to the open range culture. The X4 Brand was from Javitz's father's main ranch, The J Spear J, was Jessamine's brand, and she used it to sign many of her photographs as well. TJ was Javitz's father's brand.
One photo is of her mother's camera equipment, now on display in the Bozeman Trail Museum in Big Horn. Johnson's mother, Belle Benton Spear was frustrated artist, and became a photographer when she discovered cameras in 1897. She taught her daughter, Jessamine to assist her, as well Jessamine's younger sister, Elsa Spear Byron, photographer who was well known to the people of Sheridan.
Jessie married Will Johnson in 1906. From 1914 to 1917 they leased Big Red Ranch near Ucross. They ran cattle and sheep, running them on the Bighorn Mountain during the summer and on the lower valleys during the winter. In 1917 they purchased their first ranch near Kirby, Montana.
The Wolf Mountains around Kirby had plenty of creeks and springs as well as large valleys to grow hay for the cattle in the winter. They quarried local sandstone and built a three-story house on the edge of Indian and Rosebud Creeks. It was a landmark, and often people stopped by for a visit or sometimes even to spend the night. There were parties and dances as well.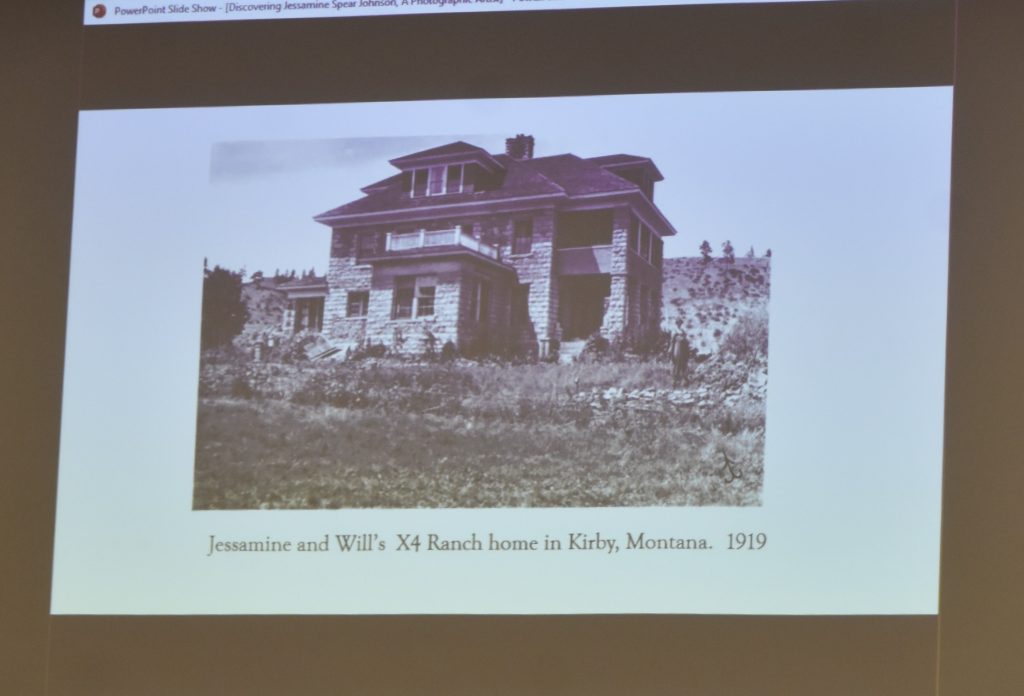 Javitz book is scheduled to be released in later 2022, or early 2023. Javitz has a website, tempejavitz.com, and she invites one to, "come along for the ride and enjoy this amazing woman's story," in Jessamine Spear Johnson: A Photographic Artist of the Changing West