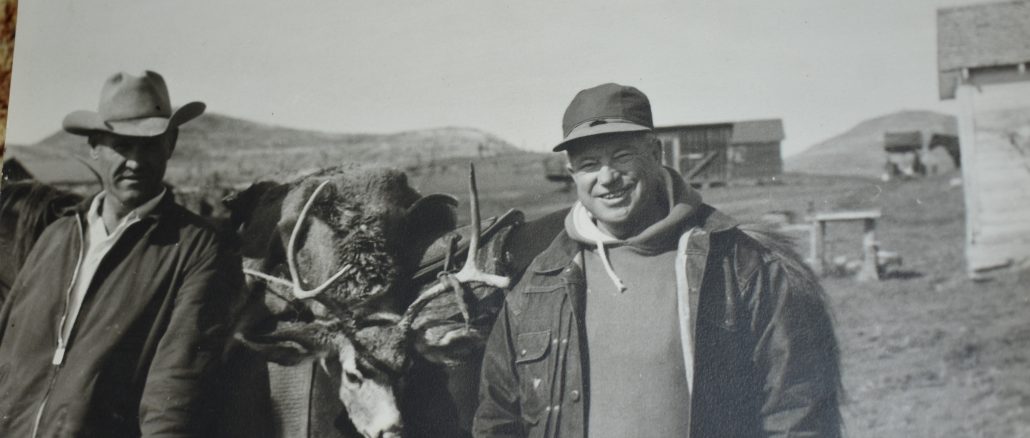 Ranch horses became pack horses during hunting season
With hunting season getting a start in the Sheridan area let us take a quick look back in time to the early days of hunting.
In the 1800s, there were no game laws, no bag limits, no licenses, no game wardens. Deer, antelope and elk were killed to supply meat for soldiers, restaurants and railroad workers.
Wildlife populations statewide were declining. The first territorial legislature created an "Act for Protection of Game and Fish" in the Territory of Wyoming in 1869, but there was no enforcement of the law. So it did little to stop the killing.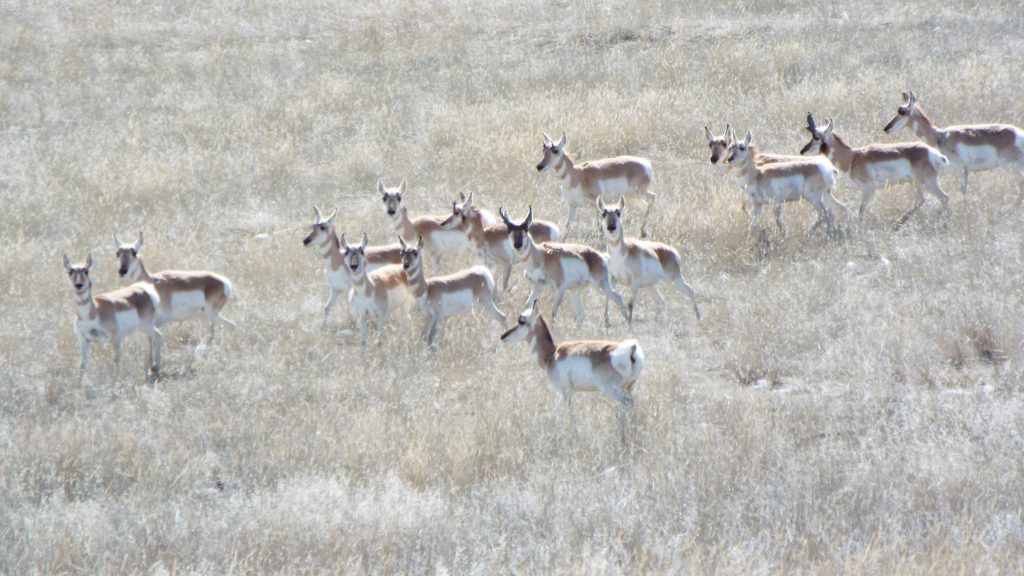 In the Laramie Sentinel, Oct., 1890, the editor had this to say, "We are almost sorry the law for the protection of game animals has not been more stringent and extended. Loads upon loads of deer, elk and antelope are being brought in here, and as it is too early in the season to ship game east, the market becomes glutted, and much of the meat is wasted, and the rest don't bring enough to pay for ammunition. It is true that with the immense unsettled wilderness lying east, west and north of us, there is no danger of the game being thinned out much for generations to come, but still it looks to us like a wanton destruction and waste to carry on such a slaughter among the poor animal mainly for hides and meat by commercial hunters. One Cheyenne paper in 1875 said that a hunting party killed a 'carload' of game. (In 1875 that would refer to a railroad car) And two men killed around 50 antelope.
The Buffalo Voice, October 1907 — Parties returning from the Yellowstone park say that it is no trouble at all to purchase all the elk meat and venison that one wants, the settlers along the route paying little attention to the game laws, says a special from Lander. There has been some talk of making a closed season on elk, but travelers who know the conditions say that it would probably make but very little difference if the number killed for the reason that so many people living near the haunts of the big game kill all they want to any way. They keep a close lookout for the game wardens and usually know just where they are at all times.
To save the wildlife in Wyoming, some form of enforcement was needed. After Wyoming became a state, the state legislature created the office of the State Game Warden. Over the years the Game and Fish department began to hammer out policies for management of Wyoming's fish and birds and big game animals.
In the Shoshoni Capital Gazette, on Jan. 1, 1909: Proposed Game Laws: Wyoming Sportsmen Want More Protection for Game. A A committee appointed by the Wyoming Sportsmen's Association, which met in Sheridan early in December have prepared the following changes in the game laws: Elk and Mountain Sheep—To be protected in Big Horn mountains for period of five years, Antelope—To be protected throughout the state for period of five years. Deer—Open season from September 1st to December 1st. Only adult males to be killed. Shot Gun License—Resident, $2; nonresidents, $6. Big Game License—Residents, $3; non-residents, $50. No license to be issued. unless the applicant can read, write and speak the English language. All licenses to be published once every two weeks in an official county newspaper, giving name and residence of applicant. Number of game wardens to be increased to such number as will secure active enforcement of the laws.
Wildlife numbers began to rebound, and by 1911, this article appeared in the Sheridan Post enterprise.
The Sheridan Post August 18, 1911:
Joyous days for Nimrods: Hunting season will soon open. Lots of game. Big Game Season Begins September 1st. Wyoming's hunting season is approaching. In just a trifle more than a fortnight the ardent Nimrod will be free to stalk the antlered stag or course the nimble blacktail (mule) deer.
Already parties are organizing and making plans to start west in time to be in the heart of the elk country on the day the hunting season opens. …..Reports from the western slope of the Big Horns say that the woods are full of the finest specimens of the lordly elk stag; and that all are fat and in fine condition. It takes a real hunter to get them, but the man who knows what to look and has the nerve to shoot straight at the proper instant will have no trouble in bringing down all the elk the law permits that anyone but a game hog would desire.
The true sportsman never takes his game at a disadvantage and never hunts for the pot. There is a mutual understanding among these men that every violation of the law shall be reported and that every violator shall be punished.
By1943, the game laws had the desired effect of helping to increase the herds of big game animals. In an article Wyoming Tribune Eagle Wyoming at War edition, it said that Wyoming's title of the "Buffalo State" should be changed to "Antelope State," with a total of 54,000 antelope. Some areas in Campbell and Johnson Counties allowed hunters to take two pronghorn on their license.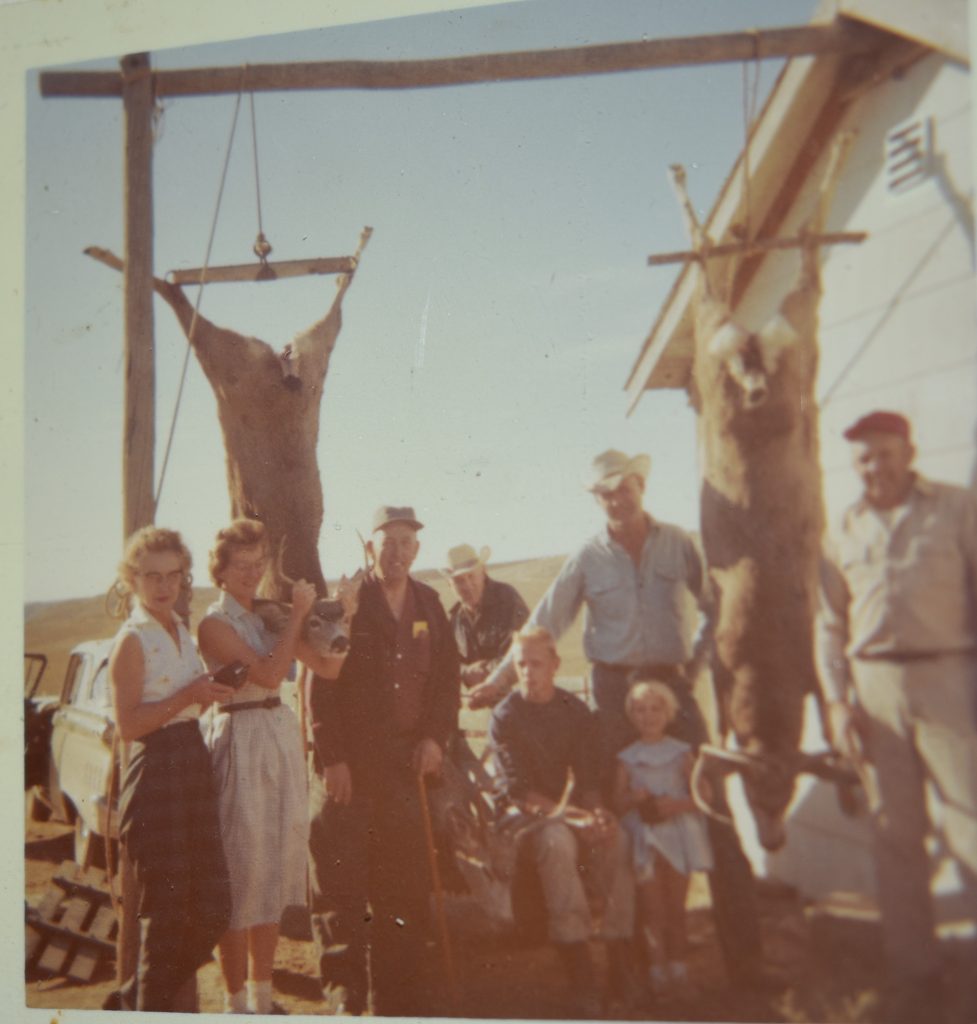 During the 50s and the 60s most ranchers did a little guiding for mule deer and pronghorn on their ranches, and back then hunting was often a family affair. It was a vacation that included wives and kids. The wives seldom hunted, but enjoyed the vacation and different scenery.
Many of the friendships made during the hunting seasons lasted for many years. Ranchers changed a fee, but it was usually fairly inexpensive, mostly to cover gas and meals for the hunters.
Ralph Foster, Clearmont, retired rancher and outfitter, who started taking hunters on his ranch in 1953, said that some of the hunters became almost a part of the family.
In Wallace Vannoy's journals in 1967 he writes, – Oct. 1 – Reg and Marlene (Smith, hunters from Michigian) and yunguns arrived at noon yesterday. Hunting off with a bang. I took five antelope hunters out and they got three bucks.
Oct. 3 – Hunting still pretty good…..my hunters got another antelope at the fish pond. Still short one but the fishing is good.
Oct. 16 – (back in the late 60s the season around Clearmont was still open. Now it only runs through the 14th.) Some more hunters came with a camper house, two men, two boys, a girl, and a lady. They drove in last night.
Oct. 17 – Peterson & Pardner got two nice deer yesterday in the 'ruffs' of the Zingg Place and we went and got them this morning. Nice day.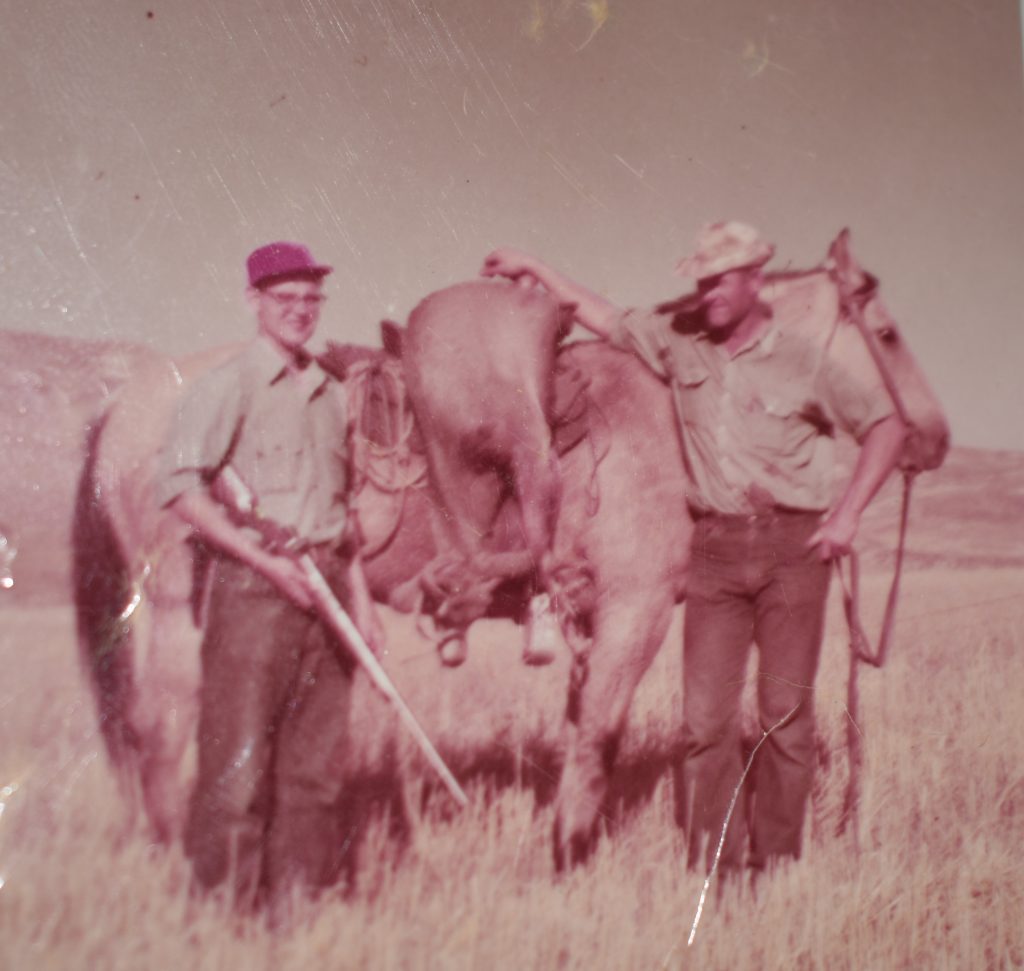 Four wheel drive pickups were not as common on ranches as they are today, and four-wheelers and side-by-sides were unknown. Still, big deer hang out in the back country of juniper trees and deep, rough draws. Hunting was done by hiking and by horseback. Ranch horses were, for a few weeks, turned into pack horses to bring deer out of rough breaks back to the meat pole.
In Wallace Vannoy's journals from 1965:
Oct. 10 – We had to take the horse to pack out Ted's deer.
Foster had this to say about his hunting operation in the 50s and 60s.
A lot has changed in the hunting industry, in Sheridan County and statewide. For one thing seasons now vary around the state depending on hunting pressure and numbers of game in each area. License fees have also increased, as has everything else, and the number of species that could be harvested on each license.
It wasn't until about the 1970s when hunting in Wyoming became a way to make money, and outfitters began leasing up ranch land to hunt on.
He also felt that, at least on his ranch, that mule deer have been decreasing in numbers. "We used to have a lot of mule deer. Now we've got a lot of antelope, but very few mule deer."
Foster added about one difference he has seen over the years.
Although most still hunt with scoped rifles, some are deciding to go back to the more challenging type of hunt, taking into the field with bows and arrows, which require skill and the ability to stalk within less than a 100 yards of the quarry.
In the Sheridan Post-Enterprise, December 30, 1923:
Sheridan's Cowboy Artist Has Bow and Arrow to Shoot Game Indian's Weapon More Effective Than Gun, 'Bill' Gollings Plans to Hunt in Big Horns During Summer ….. Big game in the Big Horn mountains will be shot down by bow and arrow next year if the dream of E. W. Gollings of Sheridan, famed as the "Cowboy Artist," comes true….He has now developed his skill until he can pull and shoot a 55-pound bow and can make things lively for a jack rabbit or a grouse within any reasonable distance.
Mr. Gollings proposes to so develop his hobby this winter that at the opening of the hunting season next year, he can go into the mountains after big game, armed only with a bow and a dozen arrows. In his plans for this excursion, he is being aided and abetted by Sheridan archery enthusiasts, prominent among whom are Dr. J H. Bradfield, Harry Palmer and George Levi Smith.
Last week. Mr. Gollings received a pen and ink sketch of himself in a bloody bow and arrow battle with a ferocious grizzly hear, which came to him from his contemporary and close friend, (artist) Charley Russell of Great Falls, Mont. Four famous Gollings pictures —"The Overland Stage," "The Smoke Signal," "The Wagon Box Fight" and "Emigrants on the Platte,"— hang in the state capitol building at Cheyenne.
Although has gone through many changes,Sheridan County is proud of their hunting heritage, motels and bars and restaurants proudly display "Welcome Hunters" signs during the fall season.
Out-of-state hunters bring great deal of money into the state, staying in area motels, eating in local restaurants, and buying gas from gas stations. With the help of the Game and Fish Department, which does annual surveys, talks to landowners and sets seasons and limits on game animals, the hunters help to keep the herds in check to insure the health of the herds.
Big Game License fees also help to support the game and fish programs, helping game and non-game animals alike.
Sources used, Wyoming Game and Fish Website