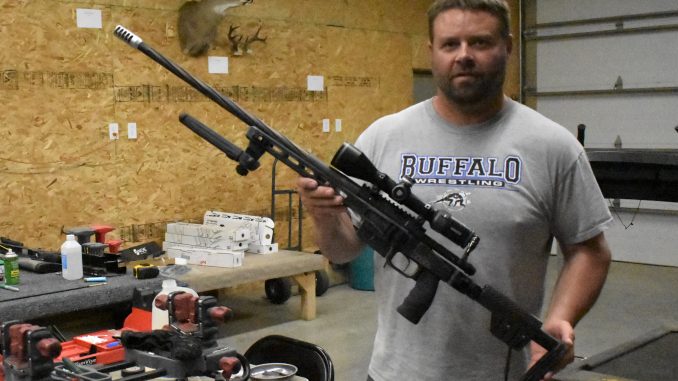 What does one do when your hunting rifles don't measure up in Precision Shooting Events?
Easy. You make your own. At least that is what Nicholas Roadifer, Clearmont resident decided to do. Nicholas has always been a hunter, so he knows how to shoot. The the walls of his house have several trophy heads that attest to fact that he is successful. He has taken deer, bighorn sheep, elk, coues deer and other big game. He recently drew a bighorn sheep permit, and he is planning to use a Widowmier rifle on his hunt.
He had reason to feel good about his skills and his rifles. Up until three years ago when a friend said, "Lets go to this precision shooting event at Glenrock." At the shoot that they found out their rifles lacked the fine tuning for long-range precision competition. "We think of long range as, oh, 600 to 800 yards. No. That's not long range anymore."
"We finished near the bottom," Roadifer laughed. "So, we went to Billings and spent a lot of money on new guns and optics and we thought, we're ready. As Nicholas tells it:
That is how his business, Widowmier Precision Rifles, started. "It takes a long time to order a custom gun and have it built. So I bought chassis, (stocks), and put our barrels and actions in to make my own guns. At the next shoot Gorzalka, Taden, and I did much better. Later, I bought a metal lathe for machining the barrels. At first it was just for my own guns and friends, and when other people were interested in the guns, I decided to make the rifle making into a business."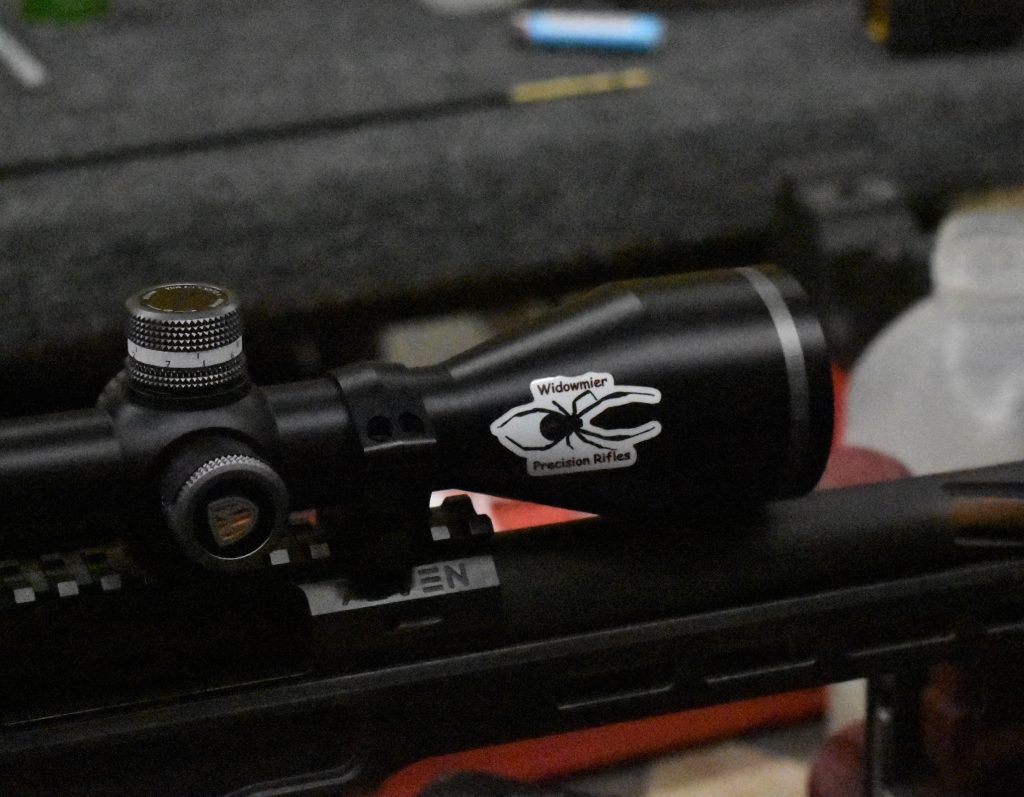 Roadifer orders barrels in various calibers, and then fits them to the stock and the action. He prefers aluminum stocks, as they are machined perfectly, everything fits, and everything is free-floating, which makes the gun more accurate. "Wood stocks can change with the temperature," Roadifer said, which affects the accuracy. "With aluminum stocks I can be assured it will shoot the same every time. The majority of my guns are built in the modern style," he added.
Since he started three years ago Roadifer has built 33 rifles. After moving around for several years, he now lives in Clearmont, and has his gun making shop there. He also has a federal firearms license to allow him to buy and sell firearms.
The newest rifle he has built is 6.8 Western. The 6.8 Western is a modified 270 Winchester Short Magnum case that is shortened to make room for longer, heavier, higher ballistic coefficients bullets. It has long-range accuracy and good knockdown power.
Roadifer said that due to the ammo shortage this year, and the fact that the 6.8 Western is a new caliber, there is more ammo available for that. "One gentleman who purchased a 6.8 Western from me was selling 6.8 ammo on Facebook, because he didn't have a gun to shoot it. I contacted him and then told him I could make him a rifle, and he bought one from me."
Since October Roadifer has sold two of these 6.8 Western Rifles.
On July 9th Roadifer held and open house, and around 120 people attended, mostly local people but there were also gun enthusiast from Billings and Gillette.
When is making guns to sell, Roadifer says he always likes to shoot the gun first to make sure everything is find and it fires well. He has several places around Clearmont where he can test fire his rifles.
He also likes to keep his purchases for the gun making local as much as possible, usually purchasing the scopes from Maven Scopes in Lander. Maven focuses on the design and creation of innovative products for the modern outdoors man, the company website states.
Roadifer still enjoys competitive shoots, and his rifles are working. In one recent competition at Heart Mountain, Wyoming, he placed 22nd out of 100 shooters. "Now, with the new rifles, we, (Gorzalka, and Taden and Nicholas), are usually in the top ten in most competitions," Roadifer said with a smile.
Located in Clearmont, Wyoming, Widowmier Precision Rifles has a Facebook page, and Nicholas can be contacted at 307-763-0308.