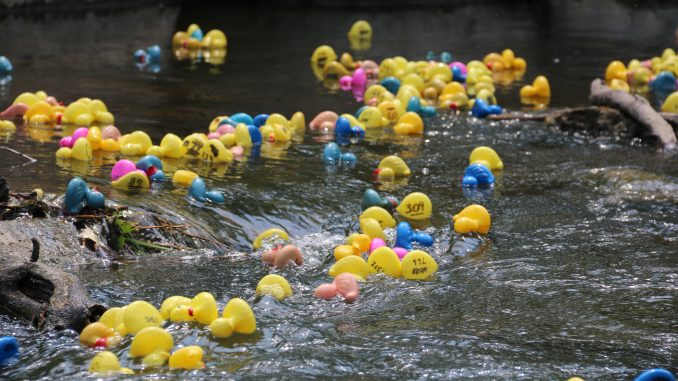 Rubber ducky may be the one, and they make bath time lots of fun, and they make a competition fun as well.
More than 1,300 rubber ducks were dropped into the Big Goose Creek behind Kendrick Park as a fundraiser for the Sheridan Kiwanis Club.
Michalynn Horton of the Club says the event benefits local charities that Kiwanis supports.
She adds that everyone has the same odds of winning, because age doesn't matter when it comes to purchasing a rubber duck for the race.
"They're just a good memory for everybody. It involves from the children to the adults, they see the ducks float down the water, you don't know which duck is which, you can't see numbers from anywhere, so you get to cheer for the ducks all the way to the end, and then there's the surprise of what the winning number is, and that just makes it that much more fun for everybody."
There ended up being four winners instead of three when the race was over.
It turned out the ticket for duck number 1338 (3rd place) was never sold.
Tickets are in books of 50, and they sold numbers 1301 through 1329 in one book, and then 1351 to 1364 in another book.
A 4th duck was initially gathered at the finish line, but no one read off the number.
The decision was made that the last ticket sold in each of the two books, would be co-3rd place finishers.