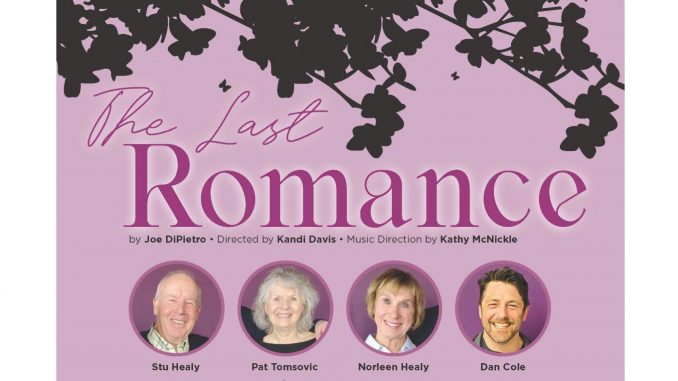 The WYO Performing Arts & Education Center is delighted to present a very special local performance of The Last Romance by Joe DiPietro in the Mars Theater June 3 – 6, 2021.
The production is directed by Kandi Davis with Music Direction by Kathy McNickle and stars Stu Healy, Pat Tomsovic, Norleen Healy and Dan Cole in a heart-warming comedy about the transformative power of love.
During an appearance on Sheridan Media's Public Pulse, director Kandi Davis told listeners a little about the play.
Stu Healy plays a widower named Ralph who discovers that a crush can make anyone feel young again. On an ordinary day in his routine life, Ralph decides to take a different path on his daily walk—one that leads him to an unexpected second chance at love.
Stu explained a little about his character to listeners.
Relying on a renewed boyish charm, Ralph attempts to woo the elegant, but distant, Carol, played by Stu's real wife, Norleen Healy. Norleen had this to say about her character's motivations.
Defying Carol's resistance—and his lonely sister, Rose's, played by Pat Tomsovic, jealousy—Ralph embarks on the trip of a lifetime and works to regain a happiness that seemed all but lost. Rose has also lost her spouse. Tomsovic explains that her character's   dedication to her brother has become her life. 
Tickets are available at the WYO Theater, Wednesdays – Fridays from noon to 5 p.m. or on the WYO Theater webpage, here.
This limited engagement is sponsored by Bill & Jane Rader, Gene & Kandi Davis, Bruce & Pat Tomsovic and the Witzel Family Foundation.