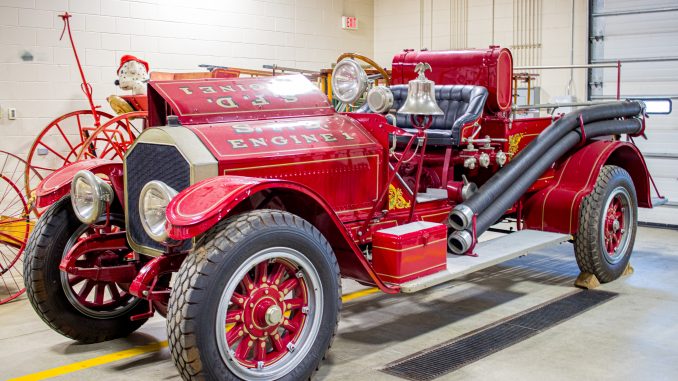 Photos By: Steven Schreffler
After a decades-long absence, the 1919 LaFrance fire engine that once served Sheridan is back home again in the Sheridan Fire & Rescue station on East Works Street.
The engine has been here about a week, largely due to the efforts of Edgar Fack, a retired fire captain who's been working for nearly 20 years on the project. He explained in a recent interview with Sheridan Media.
Fack traced the truck to Portland, Ore., but he wasn't able to go there and meet the truck's owner until 2005. He said the man had the truck as part of a collection and the vehicle was running. Fack said he actually had a chance to drive the truck.
But, he said, purchase of the vehicle wasn't possible at that time, and the owner sold the engine to a purchaser in Washington state. Fack said from 2005 to 2013, the engine was sold back to American LaFrance in South Carolina.
He said the engine was in the museum for several years, until the fire chief of Surfside Beach, South Carolina, worked out a loan agreement with the CEO of American LaFrance, with whom he was friends.
The engine then went to Surfside Beach in 2013. Then in 2014, the doors of American LaFrance manufacturing were closed.
Fack said the engine stayed at Surfside Beach until this past month when a cooperative loan agreement between the city of Sheridan, Sheridan firefighters and the city of Surfside Beach.
Fack said the brother-in-law of one of the firefighters, who lives in Minnesota and transports custom cars around the country, was able to go to Surfside Beach and haul the engine to Sheridan.
Fack said the engine arrived here last week.
Sheridan Fire Chief Gary Harnish said plans for the vehicle include public showings, including Sheridan's annual WYO Rodeo parade.