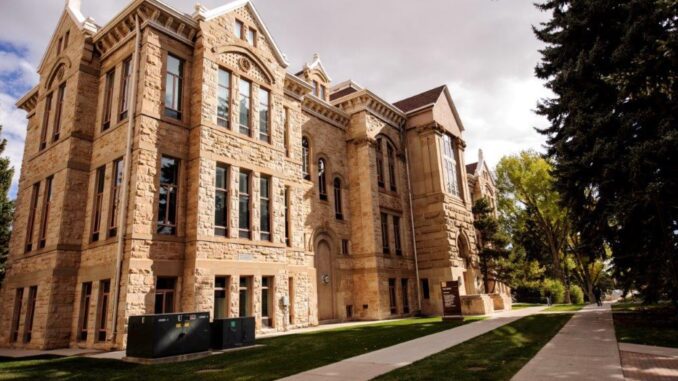 A University of Wyoming researcher wants to design chemical reactions that can be used as a noninvasive method to study not only how proteins in a cell pack together in real time, but also how this packing can dynamically change when a cell is in a stressful environment.
Obtaining this information will enhance knowledge of basic biological processes and this, in turn, is critical for the advancement of other areas of science, such as drug discovery, Michael Taylor, an assistant professor in UW's Department of Chemistry, said.
Taylor received a big boost toward this research endeavor when he was recently notified he will receive a $703,000 Faculty Early Career Development (CAREER) Program Award from the National Science Foundation (NSF).
Taylor receives the funding for his project, titled "CAREER: Optically Controlled Protein Proximity Labelling." The grant begins Jan. 1, 2021, and ends Dec. 31, 2025.
"In a nutshell, we want to use organic chemistry as a tool for studying biology. We will be developing chemical reactions that can operate within living cells," Taylor said. "These chemical reactions are designed to make nonnatural chemical bonds with specific regions of the proteins inside of a cell, which we call 'labels.'
"Since these labels are nonnatural, any protein that possesses one of these labels is relatively easy to detect," he said. "Additionally, the reactions that we will develop require light to proceed, which means that we can control where and when the reaction takes place by simply turning a light bulb on or off."
The research will be conducted in his lab at UW.
Spreading Knowledge
As part of the NSF CAREER Award, Taylor will conduct some public outreach. Taylor says outreach activities will include interactive educational activities designed to broaden interest in STEM (science, technology, engineering and math) and at the middle school level.
"We also will design interactive demonstrations for local Girl Scout troops that actually use the chemistry developed in this proposal," Taylor said. "Many of the compounds that we make look really neat and do cool things when you shine light on them."
The CAREER Program offers the NSF's most prestigious awards in support of junior faculty who exemplify the role of teacher-scholars through outstanding research, excellent education and the integration of education and research within the context of the mission of their organizations. Such activities should build a firm foundation for a lifetime of leadership in integrating education and research.
"The final support is very much appreciated. Rest assured, we will put it to good use," Taylor said. "It will allow my lab to continue to expand into a very exciting area of interdisciplinary research at the interface of chemistry and biology."
The Division of Chemistry within the NSF recommended Taylor for the award. Budgeted over five years, the grant funding will support Taylor, his graduate students, undergraduate students in his lab to conduct the research, travel costs and equipment.
Travel funds will be used to disseminate the results of this grant at various science conferences,according to Taylor.
His areas of interest include new methods for the chemical modification of biomolecules; organic reaction design for in situ generation of therapeutic compounds; and new organocatalytic strategies for the synthesis of high value chemicals.
Taylor received his Ph.D. in organic chemistry from the University of Delaware and his bachelor's degree in biochemistry from Salisbury University in Salisbury, Maryland.
"Biology is really just chemistry on a grand scale. There are millions and millions of highly reactive biomolecules within a single cell," he said. "So, designing a chemical reaction that only looks at one small part of this complicated puzzle and completely ignores the rest presents a considerable, but very exciting challenge. There are very few chemical tools out there that can truly achieve this."