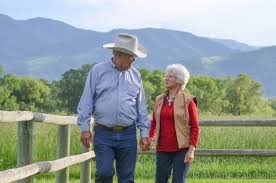 Dayton rancher Wayne Fahscholtz has been elected chairman of the board of directors of the Wyoming Stock Growers Land Trust.
He succeeds Heath Hunter, who has completed a three-year term as board chair.
Fahsholtz is the former CEO of the Padlock Ranch and owner of Ag Win Group LLC, a ranch management consulting firm, with a history of land conservation. While with Padlock Ranch, he oversaw the establishment of several easements with the Wyoming Stock Growers Land Trust.
Under his guidance, the Padlock also won the Environmental Stewardship Award for Montana and Wyoming along with the Leopold Conservation Award. Chairmanship of the board is a three-year term.
The land trust was founded in 2000 as an affiliate of the Wyoming Stock Growers Association. The trust provides voluntary private-sector options for conservation of agricultural land.
Heath joined the land trust board in December 2016 and was elected chairman in 2017.