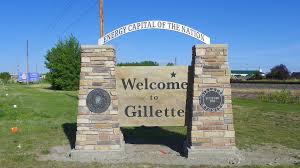 A ribbon-cutting will be held next week to celebrate the listing of the former Gillette City Hall on the National Register of Historic Places.
The event will be at 4:30 p.m. Thursday at the building location on South Gillette Avenue.
The building, which served as Gillette's second City Hall and is now headquarters for K2 Technologies, was the focus of efforts by the Gillette Historic Preservation Commission to recognize historically significant places in downtown Gillette. A ceremonial plaque describing the building's history and a marker designating the building as a nationally registered historic place will be dedicated during the ribbon-cutting ceremony.
Gillette City Hall was constructed in 1936, and the city government took up residence there in September of that year. In 1967, a two-story addition was created for the fire department, and for a brief period of time, the brick building housed both police and fire departments as well as City Hall.
According to city officials, the brick building represents a modest example of Art Deco architecture, with a front facade nearly unchanged since the structure was built, and the building has been included in walking tours of Gillette.
K2 Technologies has owned the building since 2010. The building was approved to be added to the National Register on Sept. 27, 2019, after four years of research.