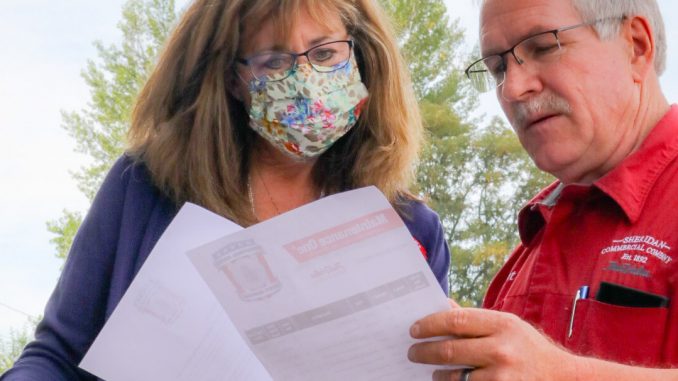 Sheridan Commercial Company True Value, in partnership with the True Value Foundation is providing free health and safety kits to Holy Name Catholic School through the newly created Educational Heros Safety Campaign.
To ensure the health and safety of students, teachers administrators and staff at the school, Sheridan Commercial Company True Value is donating kits comprised of hand sanitizer, KN-95 masks and hand soap.
Sheridan Commercial Company True Value General Manager Kurt Smith and associate John Wigglesworth delivered the kits to Holy Name Sept. 24.
Wigglesworth said the effort is all part of being part of the community and helping each other through tough times.
The gift is a welcome site for Holy Name Catholic School Principal Mary Legler. She said the school is spending approximately $1,000 a month on Personal Protective Equipment in response to the COVDI-19 pandemic.
At the beginning of the pandemic, True Value Manufacturing retooled its EasyCare paint production facility in Cary Illinois to produce FDA-approved hand sanitizer and other essential cleaning products to meet unprecedented nationwide consumer demand for health and cleaning essentials. In August, the True Value Foundation decided to go even further to address the growing public need for these products as schools reopen by launching the Educational Heros Safety campaign. This collaborative effort between the company and it's independent retailers aims to keep America's kids learning while keeping our frontline educational heroes safe.