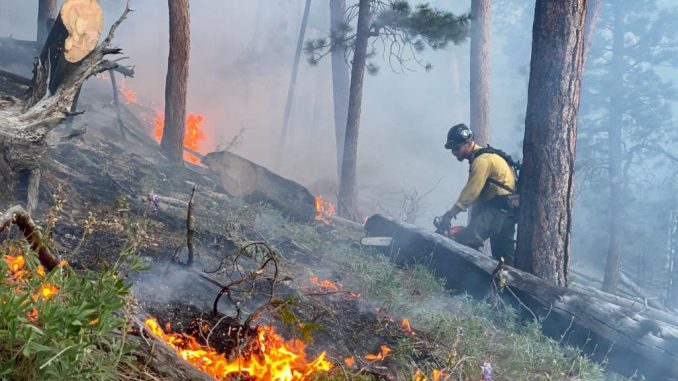 By the evening of July 3, fire crews from the U.S. Forest Service, Wyoming State Forestry, Bureau of Land Management and Johnson County have battled a fire to containment on Sisters Hill near Elgin Park.  
The fire – approximately one acre in size – is believed to have been caused by lightning strike earlier in the week, according to Powder River District Ranger Traci Weaver.
The Bighorn NF Blacktooth fire module has assisted Johnson County in containing the fire along with a helicopter from the Wyoming State Forestry Division.
Crews will continue to contain and monitor the fire throughout the weekend.
USFS officials remind campers to extinguish their campfire until the ash is cool to the touch and never leave a campfire unattended – an adult should supervise the campfire at all times. Keep a bucket of water and shovel nearby. Never put anything but wood into the fire. Do not pull sticks out of the fire.
Officials would like to remind residents and visitors that fireworks are illegal to use anywhere in the Bighorn Mountains or forests.