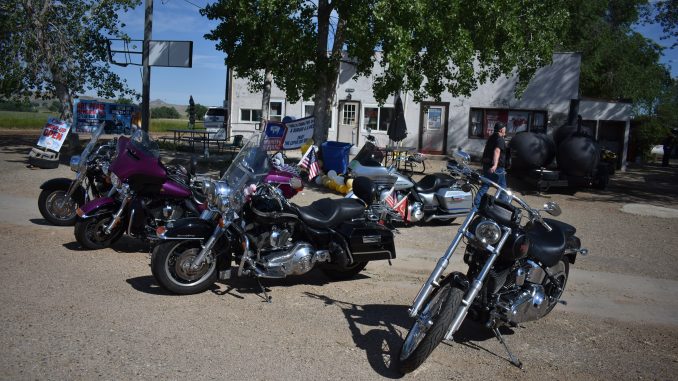 (By Cynthia Vannoy)
The first annual Leiter Motorcycle Rally, at the Leiter Bar and Cafe, in conjunction with the Art Perez Memorial Run was held on June 27. Art Perez, a local motorcycle rider, died in a car accident two years ago not far from Wyarno.
Leiter Bar and Cafe owners Steve Klier and Melanie Thomas Klier said the rally is great for their business. "This is actually our second one, but then we decided to have it as an annual event." Melanie told Sheridan Media's reporter, "There were about 100 to 180 people here on Saturday. We were packed. My cabins were booked up, and many people came with campers and parked here during the three-day event."
The Rally included a poker run on Saturday, which started in Leiter, went to The Ranch at Ucross; to the No-Name Bar, Sheridan; Tunnel Inn and Wagon Box in Story; the Cowboy Bar in Buffalo, and then back to Leiter for the night. There was a pig roast and entertainment was provided by two bands Rent Money and 100 Proof, and Susan Odero, performing as Miss Bubbles, who is a comedian from Idaho Springs, Colorado.
"There were 52 bikes and 60 riders here, and they raised over $3000 for the Advocacy and Resource Center in Sheridan. A Kansas rider won the 50/50 raffle and donated his winnings to the Center, and there was an auction held with money going to the Center as well." Melanie said.
"We had five bike clubs represented. The Sons of Silence; Heathens, (including some from the Casper chapter); All Fathers; UMS, and Buddy's RC."
She added, "We had a good crowd for the pig roast on Saturday night. We want to thank everyone who participated. We look forward to next year as well."