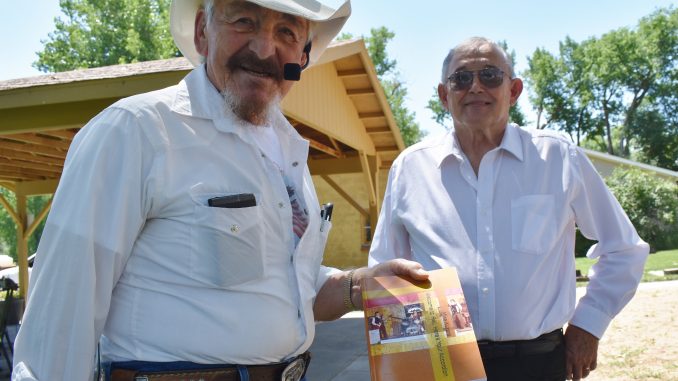 (By Cynthia Vannoy)
In spite of the Covid 19 virus, All Clearmont Day, was held in Branding Iron Park in Clearmont on June 27, 2020 with around 100 people attending to eat a free lunch, watch the soap box derby, won by Kipton George; participate in the duck race, sponsored by Clearmont's EMS team; and enjoy visiting and wandering among the displays from vendors.
One of the organizers, Amy Rowe, spoke to me about the various items on display. "We have booths selling bath salts and baked good; scented waxes; paracord items, and early garden produce." When asked if Covid 19 had any effect, Rowe said that there was about the same number of people this year as in previous years.
Mike Kuzara, former Clearmont resident and well known for playing music for many country dances for years, and Herb Achenbach provided music for the listening pleasure of those attending. Kuzara, who had recently published a book about his musical journey, "Welcome to Hell, Here's Your Accordion," said he planned to present a copy to the Clearmont Library. Included in the book is a CD of Kuzara's music.
The Clearmont Woman's Club is 100 years old this year and they had a booth selling tickets for some lucky person to win a handmade patriotic quilt, made by Jackie Belus, Woman's Club member. Cheryl Roebling, Club president, said that the materials were donated to the Club, and Nina Haynes, wife of Clearmont's former pastor, Shane Haynes, won the quilt. The money raised goes to Club projects, such as scholarships for Clearmont High School Students.
All in all, Clearmont residents came and had a good time and Clearmont Day, 2020, was considered a success.