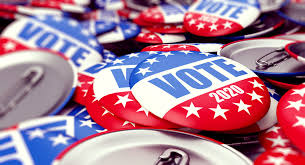 With one day left for filing for this year's elections, few races have shaped up for seats in Wyoming's legislature.
But two Sheridan County men have filed for the two federal posts up for election this year. Bryan Miller of Sheridan is one of the eight Republicans who have filed for the U.S. Senate, and Blake Stanley of Banner is among the two Republicans seeking Wyoming's lone seat in the U.S. House of Representatives.
Five Democrats, none local, have filed for the Senate post, and two for the House of Representatives. Friday is the last day for people to file as candidates.
Positions up for election in Wyoming's legislature include State Senate District 24 and House Districts 29, 30, 40 and 51. At present, the only race is for House District 30, where John Hayneman has filed against incumbent Mark Jennings. Both men are Republicans, and no Democrats are seeking that position.
In the remaining legislative positions, Republican Dave Kinskey is unopposed in his bid for re-election to Wyoming's Senate as are the candidates for the remaining House seats: Mark Kinner of
Sheridan for House District 29, Richard Tass of Buffalo for District 40 and Cyrus Western of Sheridan for District 51. All are Republicans; no Democrats have filed.
At the county level, a race has developed for two four-year terms on the Sheridan County commissioners court. Candidates so far, all Republican, are incumbent Tom Ringley of Sheridan, Lonnie Wright of Big Horn, Bryan Hellerich of Ranchester, Chad Saeler of Sheridan and Ward Cotton of Dayton.
In municipal elections, two candidates have filed so far for Sheridan mayor – incumbent Roger Miller and Rich Bridger, currently a member of the city council. Three at-large council positions are up for election this year, and three candidates have filed to date: Drew Davis, Spencer Kuzara and Steven Brantz.
In Dayton, Christopher Smith and Roberta Billingsley have filed for the two four-year positions on Dayton's town council, and Jeffrey Barron is the only candidate so far for one of two seats up for election on Ranchester's town council.
Primary elections will be on Aug. 18.