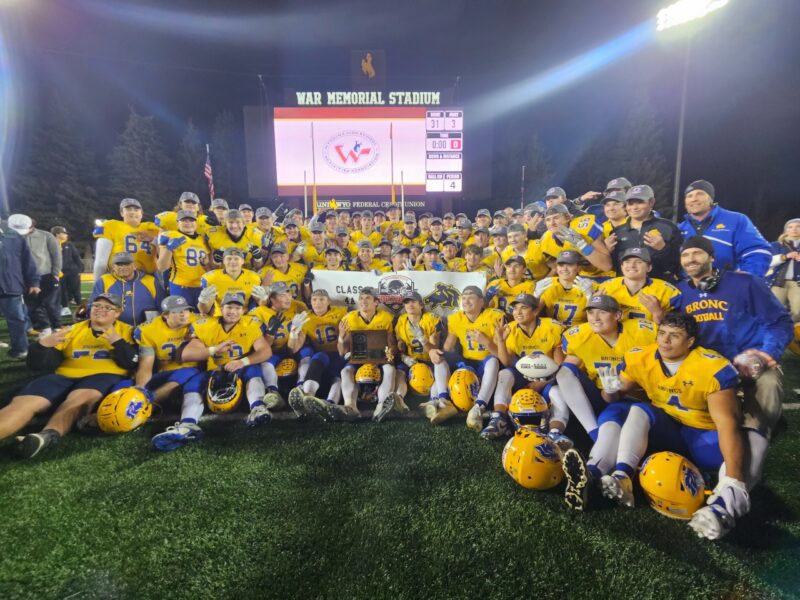 Sheridan would 3-peat as state champs by defeating Cheyenne East 31-3.
The Broncs finish the 2023 season 12-0, and win their 31st straight game, which is now the 2nd longest winning streak in Wyoming High School Football History (Laramie won 34 from 1959-1963).
Sheridan also scored 608 points on the season, which is a new Wyoming High School single season scoring record (old record was 2018 Big Horn who scored 577 points).
Click here to see box score and stats.
Second Quarter:
0:15 Dominick Berrettini 32 yard pass to Dane Steel from Sheridan 3 to Sheridan 35
0:24 Berrettini 67 yard TD pass to Steel Sheridan 7 East 0
0:41 Liam Fox 30 yard FG Sheridan 7 East 3
Third Quarter:
0:49 Berrettini 18 yard TD run Sheridan 14 East 3
1:01 Steel intercepts Cam Hayes
Fourth Quarter:
1:16 Berrettini 6 yard TD run Sheridan 21 East 3
1:25 Ty Gilbertson 33 yard FG Sheridan 24 East 3
1:34 Terran Grooms 19 yard run from East 38 to East 19
1:45 Grooms 16 yard TD run Sheridan 31 East 3