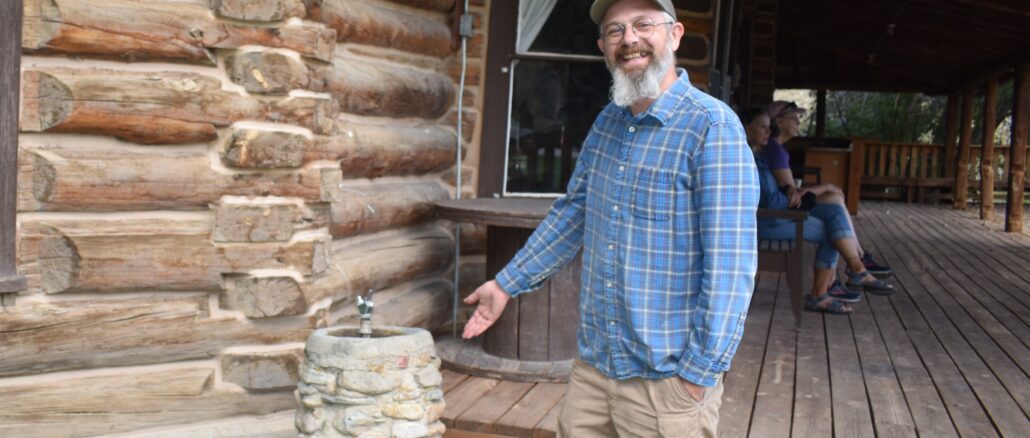 Kevin Knapp at Eaton's Ranch
Kevin Knapp, who along with his family have helped SCLT in many ways through the years. They've volunteered at trail builds and maintenance days, shared photos and videos, attended many programs, and have donated to help SCLT continuing delivering what so many people in the community love.
"I've donated my time and services to SCLT consistently over the years because their values aligned so strongly with mine. When the History program expanded, I became even more impressed with SCLT," Kevin said in an article on SCLT website.
In July, Knapp took over the position that was vacated by Carrie Edinger, who took a job with the Brinton Museum.
Knapp talked about his skills that the SCLT looked at when hiring. He said he has an anthropology degree.
Knapp grew up in the area, and attended schools in Big Horn and graduated from Sheridan High School. He moved to Oregon to go to college, and he met his wife there as well.
He added that he is 'slowly' integrating into the SCLT explore history programs, and he added that the Eatons' tour was,
He said that this is about the fifth program he has done for SCLT. One was "The Iron Riders" program, which was one he developed and researched. He added that they are all different.
After the Eaton's tour, Knapp talked about the upcoming October and November SCLT programs.
When he's not exploring history, Kevin enjoys spending time with his wife Hesid, two children and extended family.
"My parents and two sisters also live here. Our family is very tight knit. We all work and play together," he noted.
Knapp also loves exploring the Bighorns mountains; fishing and hiking with his family, adding, "We also enjoy gardening, cooking, watching movies, playing, "or anything else that sounds like a good time."