The Sheridan County Chamber of Commerce held its 24th annual Awards of Excellence Program Luncheon on Wednesday, Feb. 7, at the Ramada Inn in Sheridan. Chamber President Rosemary Garber presented the awards,
Chamber CEO Dixie Johnson talked about the awards program this year.
Anna Bailey announced the nominees in the Community Champion category, which honors a Chamber member individual, business or organization that has made a significant impact in Sheridan County. In 2023, the nominees were: Robert Briggs, who worked with NWCC District; J.T. Grainger, who started Sheridan Pilots 307 flight school; Patrick Henderson, who was director of Whitney Benefits; Joey's Fly-Fishing Foundation, that teaches youngsters confidence and respect through fly fishing and building their own fly rods, and Sage Community Arts, that seeks to inspire the community through the arts. The winner in this category was Patrick Henderson.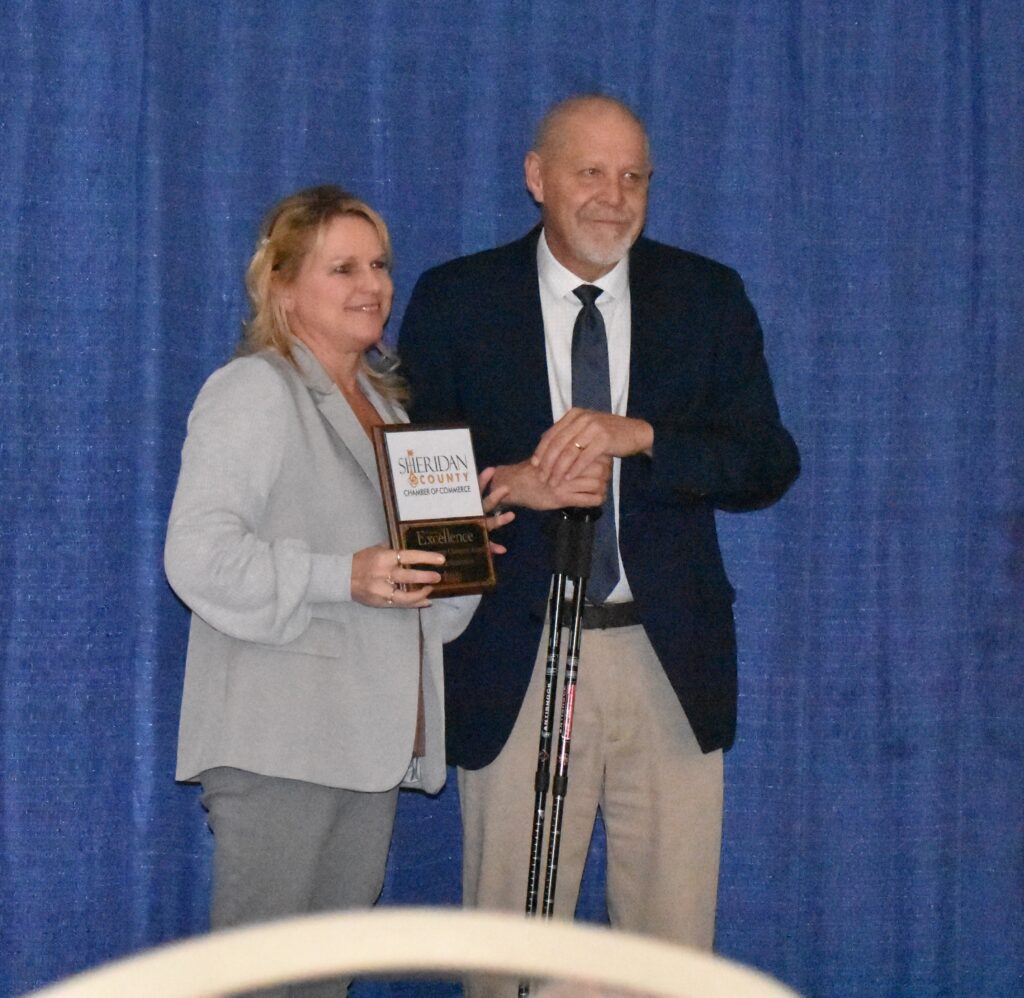 The Strength of Sheridan category, introduced by Nadine Gale, honors businesses that have been a part of Sheridan for 20 or more years and are invested in helping the community. The nominees were: Ace Hardware/Sheridan Arts and Crafts; C&B Operations LLC; Fletcher Construction; The Sport Shop; and TOP Office Products, Inc. The winner was Ace Hardware.
Becky Cooper talked about the businesses of the year award which is for businesses that positively impact the community. The nominees were: Range Telephone; Sheridan Motor, Inc.; The Big Horn Y; Wagner Ranch Services, and Weatherby, with the 2022 winner being the Big Horn Y.
Bonnie Wallace, of the Big Horn Y, said this about winning this year.
Businessperson of the year was introduced by Cody Sinclair and is for a Chamber member businessperson who shows outstanding business acumen and strong leadership in business and community affairs. Nominees were Kathy Bede of Verdello Olive Oil and Fine Foods; Jessica Bohnsack, Sheridan Stationary; Torrey Moody, Taco Johns Good Times Restaurant; Jon Oman State Farm Insurance and Dave Wills part-owner of Let'er Buck Car Wash. The award this year went to Kathy Bede.
Stories about the winners are published in the Sheridan County Chamber of Commerce community guide for 2023.