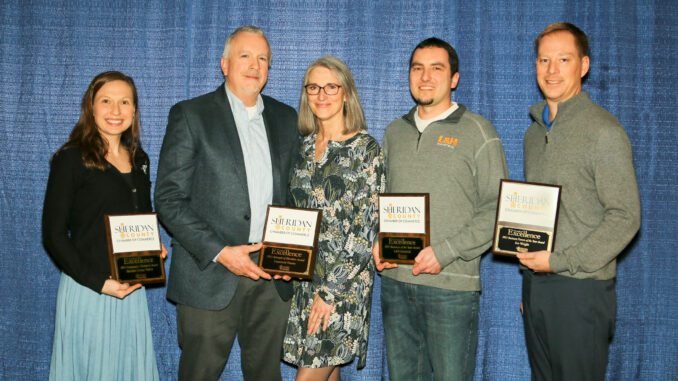 The Sheridan County Chamber of Commerce will host its 24th annual Awards of Excellence celebration on Wednesday, Feb. 8, from 11:30 a.m. to 1 p.m. at the Ramada Plaza.
The Chamber will recognize all of the nominees and announce the recipients in the four awards categories:
Community Champion Award
This award honors a Chamber member individual, business or organization that has made a significant impact in Sheridan County. Understanding that a community thrives when those in it invest and contribute to its success, the nominees demonstrate vision, ambition and drive to address needs in the community and strive for the betterment of the local area.
Strength of Sheridan
This award honors a Chamber member business or organization that has a distinguished tenure of 20 or more years in the community. This business or organization demonstrates consistent service, continually invests in the community, meets challenges with innovative solutions and demonstrates sustained quality performance.
Business of the Year
This award honors a Chamber member business that positively impacts the economic health of the Sheridan area through exceptional business practices, customer service and innovation. This business shows steady growth and consistent strong performance, excels in community relations, practices exemplary business conduct, responds positively to adversity and shows proven business achievement.
Business Person of the Year
This award honors a Chamber member business person who shows outstanding business acumen and strong leadership in business and community efforts. This person is a champion for economic development, strives to exceed customer expectations, delivers industry leading standards of service and quality and exhibits innovation in business development.
The nominees were named by the Chamber's Board of Directors, and the recipients were selected by the Chamber membership via online vote.
The nominees in each category are:
Community Champion Award:
• Robert Briggs
• J.T. Grainger
• Patrick Henderson
• Joey's Fly Fishing Foundation
• SAGE Community Arts
Strength of Sheridan Award:
• Ace Hardware/Sheridan Arts & Crafts
• C&B Operations, LLC
• Fletcher Construction
• The Sport Stop
• TOP Office Products, Inc.
Business of the Year Award:
• Range
• Sheridan Motor, Inc.
• The Big Horn Y
• Wagner Ranch Services
• Weatherby
Business Person of the Year Award:
• Kathy Bede (Verdello, LLC)
• Jessica Bohnsack (Sheridan Stationery Books & Gifts)
• Torrey Moody (Arby's & Taco John's/Good Times)
• Jon Oman (Jon Oman State Farm)
• Dave Wills (Let 'Er Buck Car Wash, LLC & Summit Realty Group, Inc.)
Cost is $20 per person. Seating is limited, and advanced registration is required by 5 p.m. Tuesday, Feb. 7. Everyone is welcome to attend. Register by visiting sheridanwyomingchamber.org or call 672-2485.