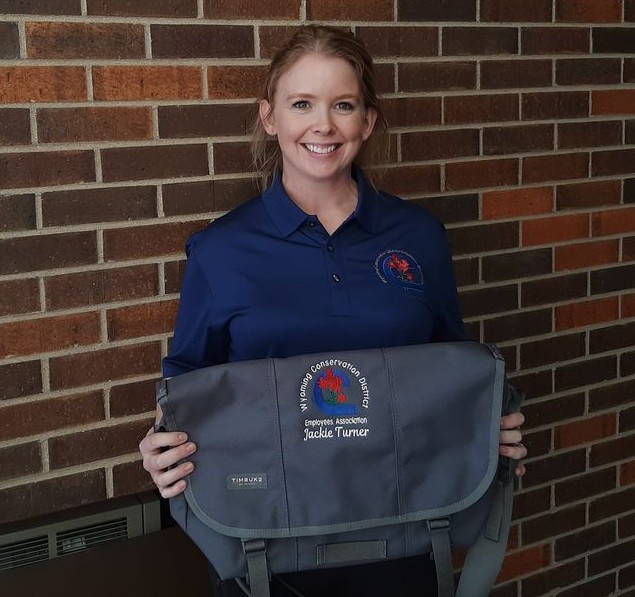 Jackie Turner, Program Specialist for the Sheridan County Conservation District, was named the 2022
Outstanding Conservation District Employee for Area I (Northeast Wyoming) at the Wyoming Natural Resource Rendezvous (December 5-8) in Casper.
Since joining the District in 2017, Jackie has independently managed the tree program, which included development of an on-line store that includes information about various species and links to technical resources.
In the past year, multiple Districts from across the state reached out to her for assistance with website development. In addition, Jackie oversees the District water resources program including water quality monitoring activities and project development with landowners.
Over the past year, Jackie has transitioned into more upfront planning and project development with landowners and provides assistance on the implementation of other USDA programs.
She also serves on the Wyoming Conservation District Employees Association Board and leads their training program committee.
District Manager, Carrie Rogaczewski, notes that "Jackie has truly been integral to the overall program. In all she does, Jackie brings a positive attitude and a smile. She has a definite attention to detail and is not afraid to take on new challenges with little instruction. I have really appreciated working with her and know that I can count on her for quality work."
In addition to the Area I Employee Award, Jackie, along with Carrie and other District staff from across Wyoming, were recognized for renewing their Water Quality Training Certifications in 2022.
Terry Cram, Sheridan County Commissioner received the 2022 Outstanding Elected Official Award from the Wyoming Association of Conservation Districts.