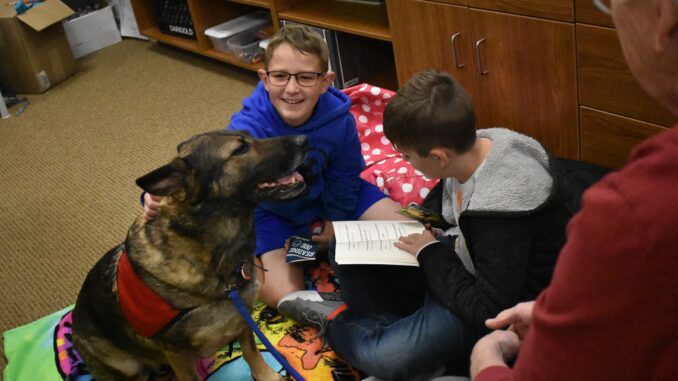 Fifth Graders Ty Walkins and Carson Branz enjoy petting Spirit at TRE
The Reading Dog program at Tongue River Elementary has been going on for several years. Cel Hope, who raises and trains German Shepherds as therapy dogs, explained why they have incorporated it into the schools. It helps youngsters in many ways.
Hope has been doing therapy dogs since 1981, mostly in nursing homes, and said she has been involved with this school program for seven or eight years. The kids range in age from kindergarten to fifth grade.
There is something about animals that kids respond to. Many kids at a young age start asking for a puppy, or a kitten or in some cases, a horse. They want someone who is never to busy to listen to them, someone who doesn't judge them, and someone who is always there for them.
As Zach Weller, special ed teacher at TRES put it:
Hope has two dogs that she brings to the schools, because she is there for two hours, and the dogs get a little tired after about an hour.
Spirit, a female German Shepard, was the first dog there on Monday, Oct. 17 to listen to the books being read. Two of the fifth-grade boys enjoyed joke books, and Hope said she found two that she donated to the program for them to read.
Spirit enjoyed the petting, even though she was not allowed to kiss the kids, and she seemed to enjoy being read to Tongue River Elementary School students.
The youngsters loved the dog, and Hope said they learn how to interact with the dog as well, and learn to pet them gently. Dogs are not judgmental, and accept the kids as they are. This was one reason that was mentioned a lot when talking about the program. Hope said that research has shown that:
Weller added that some of his special ed students participate in the program and talked about why he felt the program was successful.
The Reading Dog program is a part of Tongue River Elementary, and the kids love interacting with the dogs. In fact, maybe one could say TRES is going to the dogs. But in a good way.